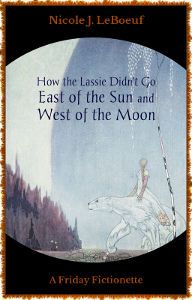 this fictionette ain't goin' nowhere but maybe round the corner for a beer
1,026 words (if poetry, lines) long
1,126 words (if poetry, lines) long
The first Friday Fictionette for October is a small folk tale retelling, or a folk tale fanfic if you will. It's called "How the Lassie Didn't Go East of the Sun and West of the Moon," and it posits a lot more communication and common sense than is the norm in folk tales. I mean, seriously, a girl's got more senses than just her sight. If her mother imagines that her daughter needs a candle to tell whether the guy she's sharing her bed isn't a Troll, her mother has a very innocent idea of what goes on in bed. That's all I'm saying.
I was astounded to discover that all of Kay Nielson's gorgeous watercolor illustrations for the folk tale collection East of the Sun and West of the Moon: Old Tales from the North are as much in the public domain as the text itself--or at least they are covered by "no known copyright restrictions." I incorporated one of these illustrations for the Fictionette cover art, because it's lovely and because it helps make clear exactly what folk tale I'm playing with.
I've also released a Fictionette Freebie for September, and it's "The Celebrated Frog Forger of Clackamas County." The PDF chapbook and the MP3 audiofictionette are now both available for free to subscribers and nonsubscribers alike. Enjoy!
And with that we head into the weekend. If you're in the neighborhood and want to hang out, I'll be among the crowd helping local brewery (and Boulder County Bombers sponsor!) 300 Suns celebrate their Grand Re-Opening on Saturday afternoon. Bring a game to play, buy some beer, and enjoy their new menu! That's what I'm gonna do. (My, that Lushious Belgian Ale with the ginger and lavender sounds tasty...)