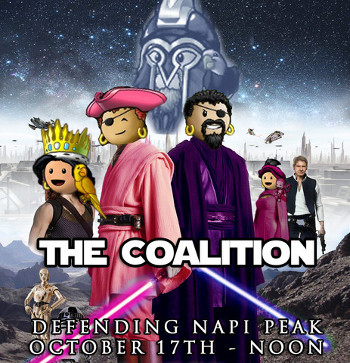 YPP Weekend Blockade Roundup, Oct 17-18: On a pixelated ocean far, far away
The flag CORSARIOS DE POSEIDÓN on the Jade Ocean hasn't even finished building a fort on Isla Ventress, but effin' Azarbad el Grande is already trying to take things over. If you wish to help us defend, that's going on at noon Pirate Time. Pay starts at 300 PoE/seg, which may seem low, but heck, it's Jade. The economy needs more pirates in it.
If you're free this evening, check in with Otherworld on the Cerulean Ocean, where Madam Yu Jian is trying to take control of Gaea Island, and we're gonna try out darnedest to stop her. The shindig gets started at 8 PM Pirate Time. Pay will start at 1000 PoE/seg and there may be a raffle.
Also on Cerulean, Napi Peak is being contested at Saturday noon. Adult Buffet wants to take it, The Coalition wants to keep it. Only one flag can have it. Which will it be? Vote with your job application and your puzzling skills! Pay starts at 2000 PoE/seg.
Plenty more blockade action on the other oceans. Opal and Meridian each have a Brigand King attacking something this weekend, and there's at least four blockades on Emerald today. Might be more - there's usually a last minute drop or two somewhere. Anyway, scroll on down for the full schedule, and have fun!
Standard reminders: Schedule is given in Pirate Time, or U.S. Pacific. Player flags link to Yoweb information pages; Brigand King Flags link to Yppedia Brigand King pages. BK amassed power given in parenthetical numbers, like so: (14). For more info about jobbing contacts, jobber pay, and Event Blockade battle board configuration, check the Blockade tab of your ocean's Notice Board. To get hired, apply under the Voyages tab.
Doubloon Ocean Blockades
*** Saturday, October 17 ***
11:01 a.m. - Maia-Insel, Opal Ocean
Brigand King attack!
Defender: Glare
Attacker: Der Fluch (1)

12:00 p.m. - Isle of Kent, Emerald Ocean
Brigand King attack!
Defender: Black Flag
Attacker: Jinx (4)

12:00 p.m. - Surtsey Island, Meridian Ocean
Brigand King attack!
Defender: Daunting Rewards
Attacker: Black Veil (7)

12:00 p.m. - Isla Ventress, Jade Ocean
Brigand King attack!
Defender: CORSARIOS DE POSEIDÓN
Attacker: La Llama que todo lo consume (1)

1:05 p.m. - Ix Chel, Emerald Ocean
Defender: Fear No Monsters
Attacker: This Means War

2:29 p.m. - Arco Ascalón, Jade Ocean
Brigand King attack!
Defender: Courage
Attacker: Flota de su Escamada Alteza Imperial (1)

4:00 p.m. - Ilha da Aguia, Emerald Ocean
Defender: Eternal Glory
Attacker: Keep the Peace

5:03 p.m. - Manu Island, Emerald Ocean
Brigand King holds the island!
Defender: The All-Consuming Flame (3)
Attacker: Black Flag

*** Sunday, October 18 ***
12:00 p.m. - Ventress Island, Emerald Ocean
Defender: Hysteria
Attacker: Gunslingers
Attacker: Pirate King

Subscription Ocean Blockades
*** Saturday, October 17 ***
12:00 p.m. - Napi Peak, Cerulean Ocean
Defender: The Coalition
Attacker: Adult Buffet

8:00 p.m. - Gaea Island, Cerulean Ocean
Brigand King attack!
Defender: Otherworld
Attacker: The Jade Empire (3)