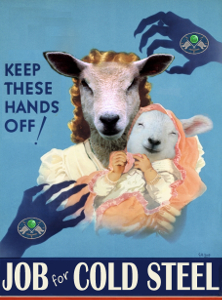 YPP Weekend Blockade Roundup, Nov 7-8: Of Sheep, Cold Steel, and Cream Pie
This is the first weekend featuring the recent changes to the blockade schedule. It's probably too early to tell what effect these changes are having on the blockade scene, but I can tell you this much: Over on the Meridian Ocean, everybody and their gunpuppy is attacking Cream Pie. I don't know if this is because CP are known to be asleep around noon Pirate Time, or because there's some sort of oceanwide grudge against that flag--no one's talking about it on the forums that I can see. But these are all high-paying blockades; I was seeing jobbing offers ranging from 5K to 75 PoE/seg. If you're looking to replenish your doubloon supply, Meridian Ocean looks to be the place.
None of the other oceans are quite as blockade-infatuated today as the Meridian Ocean, but there's something to do everywhere except for Jade. (The Jade Ocean is saving its energy for next week, when Azarbad attacks Spaniel.) On Cerulean, Cold Steel is defending Guava Island from Madame Yu Jian; in a recruitment effort for this they have produced some of the most fantastic intent art I have ever seen. Opal's hosting a scuffle between Strawhats and that ocean's own version of Azarbad the Great over Doyle-Insel. And Emerald Ocean features four blockades, one of them a midnight defense against Admiral Finius and his 19-strong fleet.
Nineteen! I could be wrong, though. I had a very hard time counting those little red shippies on the blockade schedule, so many they were and so crowded close together. I had to move my little mouse cursor over the little red shippies and tell people not to talk to me while I counted.
You know what to do--get out there, get jobbed, puzzle hard, have fun. If you need me, I'll be on the Meridian Ocean. I mean, writing. I'm totally going to be writing. (On the Meridian Ocean.)
Standard reminders: Schedule is given in Pirate Time, or U.S. Pacific. Player flags link to Yoweb information pages; Brigand King Flags link to Yppedia Brigand King pages. BK amassed power given in parenthetical numbers, like so: (14). For more info about jobbing contacts, jobber pay, and Event Blockade battle board configuration, check the Blockade tab of your ocean's Notice Board. To get hired, apply under the Voyages tab.
Doubloon Ocean Blockades
*** Saturday, November 7 ***
10:08 a.m. - Doyle-Insel, Opal Ocean
Brigand King holds the island!
Defender: Das alles verzehrende Feuer (1)
Attacker: Strawhats

12:00 p.m. - Tigerleaf Mountain, Meridian Ocean
Defender: Cream Pie
Attacker: Imperial Coalition

12:00 p.m. - Terra Island, Meridian Ocean
Defender: Cream Pie
Attacker: Coming Soon

12:00 p.m. - Hadrian Island, Meridian Ocean
Defender: Cream Pie
Attacker: Barely Dressed
Attacker: Blood Sweat and Beers

12:00 p.m. - Fintan Island, Meridian Ocean
Defender: Cream Pie
Attacker: Radioactive

12:00 p.m. - Kirin Island, Meridian Ocean
Defender: Cream Pie
Attacker: Coming Soon
Undeclared: Heaven's Army

12:00 p.m. - Napi Peak, Meridian Ocean
Defender: Cream Pie
Attacker: Imperial Coalition

1:00 p.m. - Dendrite Island, Meridian Ocean
Defender: Radioactive
Attacker: Cannabis Nation

2:00 p.m. - Prolix Purlieu, Meridian Ocean
Brigand King attack!
Defender: Velt's Boiyz
Attacker: The Enlightened (13)

4:00 p.m. - Basset Island, Emerald Ocean
Brigand King attack!
Defender: Midknight Sun
Attacker: The All-Consuming Flame (6)

5:00 p.m. - Arakoua Island, Emerald Ocean
Defender: The Crazy Department
Attacker: Cunning Stunts

5:29 p.m. - Labyrinth Moors, Meridian Ocean
Brigand King holds the island!
Defender: Chthonic Horde (4)
Attacker: The Secret Service

7:32 p.m. - Surtsey Island, Meridian Ocean
Brigand King holds the island!
Defender: Black Veil (2)
Attacker: Per Angusta Ad Augusta
Attacker: Licence to Kill

10:31 p.m. - Kakraphoon Island, Emerald Ocean
Defender: The Crazy Department
Attacker: Cunning Stunts

*** Sunday, November 8 ***
12:00 a.m. - Admiral Island, Emerald Ocean
Brigand King attack!
Defender: Gunslingers
Attacker: Fleet of his Imperial Scaled Highness (19)

Subscription Ocean Blockades
*** Saturday, November 7 ***
12:00 p.m. - Guava Island, Cerulean Ocean
Brigand King attack!
Defender: Cold Steel
Attacker: The Jade Empire (4)