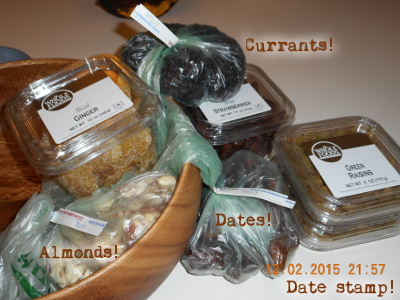 went out and spent some money, lookit
1,400 words (if poetry, lines) long
2,996 words (if poetry, lines) long
Rejoice! I have finally replaced my camera. I have also gone grocery shopping and returned home with, among other things, fruitcake fixings. Now I have combined BOTH bits of good news into ONE splendid photo, which you can see here.
Fruitcake! Will contain almonds, currants, green (golden) raisins, candied ginger, strawberries, and dates. I will decide on the booze tomorrow when I actually process everything and start it soaking. It will probably be scotch or bourbon, considering what's currently in the cabinet.
Camera! Currently contains date stamp. This will be adjusted shortly.
The camera is a Nikon Coolpix S3700. It was on sale at Target, and further marked down as a repackaged item. Now, I didn't go into Target thinking about cameras. I was shopping for strings of holiday lights to donate to my roller derby league's holiday parade float (Because we're going to skate in a local holiday parade, of course). But the holiday section was right next door to the electronics section, which reminded me that I'd been meaning to replace my previous camera, it being ten years old and furthermore having recently ceased to function.
So this new camera boasts 20.1 Megapixels, which is a revolution in comparison with my previous. Its view screen is breathtakingly sharp--again, comparing it with my old camera. It's zoom function seems darn near lossless. It has a function list longer than my arm, and--ooh!--an auto-extending lens. Look, I'm over the moon just because this camera doesn't need a rubberband to hold its battery case closed, OK? My standards are somewhat generous here.
Mainly I'm just pleased that my options for Friday Fictionette covers are no longer restricted to A. find Creative Commons (commercial use OK) or public domain images online, or B. take a really crappy photo with my flip phone.
So there's your happy technology content. As for writing content, well, soon as I'm done with this-here, I shall be logging the most recent adventures of "...Not With a Bang, But a Snicker" in the Submission Grinder and in my personal log as well. I got a response to its latest submission just this weekend, but I haven't even opened the email yet because I've been drowning in NaNoWriMo writing and NaNoWriMo catch-up. If it's a rejection, I'll be figuring out where to send that sucker yet. If it's not a rejection, expect some crowing. Next I'll be spending a little revision time with "Down Wind" to get it ready to to go and meet some very nice people itself. I think that's enough for a well-rounded late night, don't you?