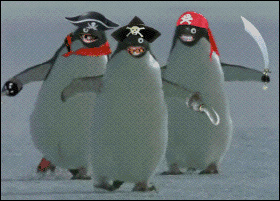 YPP Weekend Blockades, June 11-12: nine islands what is this i can't even
Blah blah blah, blockade schedule now, fictionette update later, blah blah blah. You know the drill.
Most of this weekend's entertainment will be brought to you by the near-cinematic multi-island struggle between Netflix and Kill (attacking) and Babylon (defending) on the Cerulean Ocean. And by multi-island, I mean not two or three or five but in fact nine. Nine islands! Simultaneously! Who can even? I don't know and you don't either. Just get in there and get puzzling, right?
The Emerald Ocean features a multi-island face-off that's nearly impressive, mostly between Going Down and Blow Me Good with a little Truth or Dare thrown in for variety. Meanwhile there are Brigand Kings to be evicted. You know how it goes.
Keep scrolling for the full schedule. Have fun!
Standard reminders: Schedule is given in Pirate Time, or U.S. Pacific. Player flags link to Yoweb information pages; Brigand King Flags link to Yppedia Brigand King pages. BK amassed power given in parenthetical numbers, like so: (14). For more info about jobbing contacts, jobber pay, and Event Blockade battle board configuration, check the Blockade tab of your ocean's Notice Board. To get hired, apply under the Voyages tab.
Doubloon Ocean Blockades
*** Saturday, June 11 ***
11:57 a.m. - Conglin Island, Meridian Ocean
Brigand King attack!
Defender: Dragon Lords
Attacker: Chthonic Horde (6)

12:17 p.m. - Ventress Island, Emerald Ocean
Brigand King holds the island!
Defender: The Enlightened (2)
Attacker: Spankilicious

12:24 p.m. - Ilha da Aguia, Emerald Ocean
Brigand King holds the island!
Defender: Black Veil (2)
Attacker: Skull Candy

8:30 p.m. - Ambush Island, Emerald Ocean
Brigand King holds the island!
Defender: Chthonic Horde (2)
Attacker: Going Down

*** Sunday, June 12 ***
10:00 a.m. - Fintan Island, Meridian Ocean
Defender: Chapter Three
Attacker: Radioactive

10:00 a.m. - Kashgar Island, Emerald Ocean
Brigand King holds the island!
Defender: The Enlightened (2)
Attacker: Blow Me Good

10:01 a.m. - Alkaid Island, Emerald Ocean
Defender: Blow Me Good
Attacker: Going Down

10:02 a.m. - Arakoua Island, Emerald Ocean
Defender: Going Down
Attacker: Blow Me Good

10:02 a.m. - Doyle Island, Emerald Ocean
Defender: Truth or Dare
Attacker: Blow Me Good

10:23 a.m. - Ix Chel, Emerald Ocean
Defender: Blow Me Good
Attacker: Going Down

Subscription Ocean Blockades
*** Saturday, June 11 ***
11:56 a.m. - Delta Island, Cerulean Ocean
Defender: Babylon
Attacker: Netflix and Kill

11:56 a.m. - Labyrinth Moors, Cerulean Ocean
Defender: Babylon
Attacker: Netflix and Kill

11:56 a.m. - Napi Peak, Cerulean Ocean
Defender: Babylon
Attacker: Netflix and Kill

11:57 a.m. - Turtle Island, Cerulean Ocean
Defender: Babylon
Attacker: Netflix and Kill

11:57 a.m. - Papaya Island, Cerulean Ocean
Defender: Babylon
Attacker: Netflix and Kill

11:57 a.m. - Namath Island, Cerulean Ocean
Defender: Babylon
Attacker: Netflix and Kill

11:58 a.m. - Nu Island, Cerulean Ocean
Defender: Babylon
Attacker: Netflix and Kill

11:58 a.m. - Tinga Island, Cerulean Ocean
Defender: Babylon
Attacker: Netflix and Kill

11:58 a.m. - Winter Solstice, Cerulean Ocean
Defender: Babylon
Attacker: Netflix and Kill