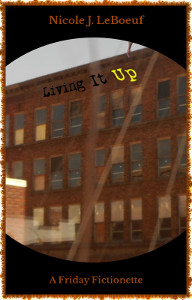 this fictionette fulfilled almost all expectations
2,784 words (if poetry, lines) long
1,209 words (if poetry, lines) long
The Friday Fictionette nominally for September 23, 2016 but functionally for September 30 has gone up. I put it up last night, but then I pretty much collapsed, so you get the blog post today. It's "Living It Up," and, as mentioned before, it's mostly a shameless hate-fic in reaction to one of my least favorite stories of recent years. (Because of the Puppying of the Hugos, I feel I should specify that nothing makes it onto my "least favorite stories" list if it didn't stand a chance of not being on that list in the first place. Otherwise the list would be unmanageably long.) But as I wrote it and had to give examples of the main character's boyfriend being a jerk, I wound up coloring him in with the broad brush I obtained as a small child being bullied by my older cousins and one particular uncle. The rest of the family had various enabling spins on the bullying; one of them was that I clearly had no sense of humor or else I'd find the bullying funny. So... that kind of informed the development of the antagonist of this fictionette.
Look, I never promised you subtlety in this exercise. You get an ebook and an audiobook version depending on your subscription tier, you get them four times a month, you get sentences and paragraphs that more or less make sense and add up to a story-like object, and you get a glimpse into my writing process whether you want it or not. You don't necessarily get literature.
I had a nice long day in Metairie after my nice long day on the train: rental car adventures, traffic on I-10 West, the last 15 minutes of game play (which is to say, the better part of an hour) of my high school's homecoming game--which they won by a comfortable margin and with several showy interceptions too--and then dinner courtesy of My Father the Cook. (Venison and green onion sausage with a side of garden-fresh okra? Yes please thank you any time!) Stayed up late talking with Dad and exchanging stand-up comedian recommendations--not the best of ideas, as it turns out; he didn't get Maria Bamford, and I'll be happy not to hear any more of Anthony Jeselnik pretty much ever. But we both partake of the geek/nerd/fan nature and want so much to share with each other the things we enjoy! In any case, we didn't part ways for the night until well past 9:00 PM. Generally I consider that downright early, but after all the day's activity and travel I was ready to drop.
Oh, right, predictions for Thursday. They were good! Everything happened as hope--including skating in Chicago! There was no rain falling when I got there, though it clearly had fallen (and was still falling in Naperville). I did indeed skate the Lakefront Trail to Navy Pier. The trail's paving is not the best for skates--it's very bumpy--but it goes all the way there. Then a very diligent security guard made me de-wheel myself on the pier itself. I met my friend for dinner at Giordanos by the Children's Museum and we had a far too short visit before he had to drive me back to the train station.
Once I got settled on the train, I spent some time trying to prepare "Stand By For Your Assignment" for submission. That story is giving me such trouble. I can't seem to make the words do what I want them to do. The story goes clunk, clunk, clunk. I think I need to stand back and give it more of an eagle's eye once-over, ask myself what I'm trying to do with the story overall, and only once I have the larger structure pointing in that direction will I be able to get any joy on a line-by-line level.
I'm terribly afraid I'm stuck in the perfection trap, though. The one where you never finish and you never move on because you can't seem to get it perfect. I keep telling myself, just let the story stand as a record of where your craft is now, so you can move on to where your craft is trying to go. But the story needs to be at least publishable before I let it go, right? In theory?
Anyway, that was Thursday night. Friday morning, instead of doing more work on "Stand By...," I played around with a new story idea inspired by an anecdote I overheard, told by one of the train staff (assistant conductor, maybe?) in the sightseer lounge. I'm not going to get this right, and I have no idea how true it is, but it began, "This town we're passing through here, Stanton, Iowa..." Seems there was a woman who traveled from France to the U.S., took a job as a nanny for some family somewhere, but turned out to be unsuited for the job, possibly due to mental illness, also possibly due to not having the proper immigration documents, and she just... ran away? Disappeared into the midwest, I guess, and wound up in Stanton, Iowa. And that's where the immigration officials finally caught up with her, months later. Or at least found out what became of her? I'm not sure; I just remember that the last thing the storyteller said, which seemed like a complete non sequitor, not to mention at right angles to reality, was, "I guess the feral cats got to her."
*Blink. Blink.* Feral cats? Did I mishear? I don't know, but that day's freewriting exercise had the writing prompt "The feral cats of Stanton, Iowa." (It may also have been influenced by having recently read "If You Were a Tiger, I'd Have to Wear White" by Maria Dahvana Headley.) It seems likely to turn into a real story, too. And that's good, because I need to stockpile submission-ready short stories this month--but that's another story which I shall tell at another time.