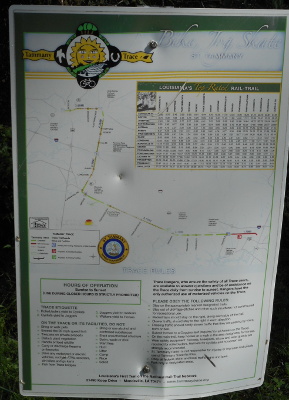 well maybe more of a workout vacation
I've come to the last night of what has been an exceedingly active visit to the New Orleans area. It has not in any way been a working vacation, which, OK, I shouldn't have expected. But it has been an active one. Darn near athletic.
I've spent a lot of time with Dad, mostly to do with cooking, sometimes to do with housecleaning, often just watching TV and chatting. We went to the Tremé Fall Festival, then out for a beer at Dad's favorite bar. (Between beers while out and mixed drinks while home, I accuse Dad of trying to get me drunk. Which isn't to say he should stop, mind you.) We went grocery shopping several times. I've visited a couple times with my brother, once at the bar and once here at the house. Visited also with various people who dropped by. I've been up early every morning and asleep early every night, because that's what Mom and Dad do and I have an easily influenced sleep schedule.
But I've also been dropping off early every night because I am exhausted. And this is probably because I've been skating. And by skating, I mean a lot. I came here with the intention to skate all the trails, and by all the Gods, I have skated on the trails. Not all of them, but a healthy selection thereof. And every single full day of my stay.
It goes like this:
Saturday, October 2: Home to Bonnabel Boat Launch via streets and Lakefront Trail (0.8 miles)
Mom goes to mass every morning. Her routine these days has contracted to a small handful of set rituals, and that's one of them. She can't drive anymore (at least, not and reliably get where she's going), so Dad and their network of friends have arranged for a transport rota.
On Saturday AM, a friend of the family drove her there, and with that particular friend there is also a ritual: After mass, they drive over to the Bonnabel Boat Lanch to look at the waves and the sea gulls. Dad and I met them there, him by car and me by skates.
The Bonnabel Canal is a big landmark of my childhood. It flows right behind my neighborhood and into the lake; the Bonnabel Pumping Station sits where the one meets the other. If you cross the canal on any of the little bridges and head north on Bonnabel Boulevard you wind up at the boat launch. Since my childhood, and since Hurricane Katrina, there has been a lot of development on all of the above-named structures. The pumping station has a concrete storm shelter on concrete pillar stilts, three stories above the ground, so that never again will the pumping station lie inactive during a storm because of the engineers having been evacuated out of reach. The boat launch is cleaned up and green and built out, with lots of parking spaces for vehicles and a park with a children's playground and a fenced dog yard and a pier that's strong and new and surfaced with concrete. The bike path crosses the canal on a flat bridge behind the pumping station, so there's no need for pedestrians, bicyclists or skaters to detour through the neighborhoods as I used to have to do.
And the little cross street that I take from my house to the bike path access spur has been repaved since last time I was in town. That was a nice surprise. It was smooth and pleasant on my way up to the levee, and safe to descend to from the levee at speed. So I got to the boat launch about the same time as Dad's car arrived and only just a few minutes behind Mom and the family friend who was driving her, and got home before any of them did.
It was a nice easy start, sort of an appetizer. Other trips would be longer. Not heroic, not epic marathons, but certainly longer.
Sunday, October 3: Home to Lakeshore Drive, Picnic Shelter No. 1 via streets and Lakefront Trail (5.6 miles)
That bike path I was on Saturday, labeled by Google Maps as "Lakefront Trail" but referred to on other websites as "Linear Park," traces the entire length of Jefferson Parish along the shore of Lake Pontchartrain, never leaving sight of the water. As of 2014, its 10-mile length is entirely uninterrupted, to say nothing of the much shorter distance between the Bonnabel Canal and Old Hammond Highway. So it was without much difficulty that I rolled in at the door of Captain Sid's Seafood at 9:50 AM and asked for a dozen boiled blue crabs.
"They won't be ready until about 10:45," I was told. "Can you take another few laps around?"
So I continued on into Orleans Parish and over down Lakeshore Drive to watch the sailboats for a while. This was somewhat bumpier, as the streets aren't uniformly in as good condition as the trail, and the sidewalks along Lakeshore Drive are paved with red brick, but it was pleasant. Things smoothed out like a skating rink when I reached the park along the water. I remember being taken out to this park, which the grown-ups simply called "The Lakefront," to sit on the sea steps and drop crab nets in the water. Skating alongside those steps now, I reflected that, in case of a fall, roller derby gear will protect one from impact but not necessarily from a wetting (nor the undertow, which a friend's parents informed me would, should I fall in, promptly suck me under the stone steps to drown--that's hot spicy nightmare fuel if ever an 8-year-old heard some), and proceeded with caution in the area.
At 10:45 the crabs were ready for pick-up. The folks at Captain Sid's put them in a brown paper bag, I put that in a plastic kitchen garbage sack, and the whole thing went carefully upright in my Riedell gear pack. Dad and I ate the whole dozen practically in a single sitting. They were that good.
Monday, October 4: Covington to Abita Springs via the Tammany Trace (6.92 miles)
Plans could not have been more perfect, I thought. Lunch with a high school friend in Covington, skating the Trace into Abita Springs, then a beer at the Abita Brew Pub. The weather was good and the trailheads were each pretty much on the doorstep of what I wanted to do in their respective towns.
Only problem: A fair number of restaurants are closed on Monday. Including the ones I had planned my day around. I thought I'd done my homework, but apparently I missed some little details.
It wasn't a day-wrecker. It was just a disappointment. Dad had been talking up DiCristina's and I really wanted to try it. And not only have I wanted to visit the Abita Brew Pub since I first realized it existed, but I was holding that visit out to myself as a reward for all that good exercise on the trail. "I did it! I got here! Yay! ...Oh." I'll have to do it again next trip, and not on a Monday. Meanwhile, lunch wound up being at a deli that was even closer to the Covington trailhead, and the beers I enjoyed at Rosie's Tavern across the street from Abita were in fact Abita seasonals I'd never tried before. So that was fine.
The trail was just gorgeous. Skating it was its own reward. Just the portion that crosses Bogue Falaya I would happily skate back and forth on for hours. And the whole way the trail traveled on land, it was bordered by those same lush ribbons of varied plant life, narrow strips of something like swamp forest, that I've always loved staring at out the window of my parents' car on the way to visit northshore family. Dragonflies everywhere. Birds and bugs and things. And shade. Shade is important. Also there was a snoball stand where the Trace continues on after crossing Highway 190. There is nothing like skating along a scenic trail with a purple king cake flavored snoball in my hand. Unless it's skating along with a snoball of a different flavor, of course. (Purple is my least favorite color of king cake. It tastes like numerical red food dye. Should have had the wedding cake flavor, or the coffee-and-cream.)
I had my only real fall of my whole 5-day stay. It was on my way back to Covington, after--ironically--the bartender at Rosie's had said having my wheels on in the house was fine as long as I didn't fall. Well. I didn't fall there. Anyway, during much of the ride there and back I'd been practicing my transitions at speed, which is to say turning around to skate backwards then turning around to skate forwards without affecting my rate or vector of travel. That had been fine. But for some reason when I transitioned just one more time to get a better look at some asphalt splotches that seemed to form letters across the track, I went down backwards on my ass. Thankfully, nothing took damage, neither the laptop in my gearpack (snug against my back and cushioned away from the point of impact by my hoodie stuffed into the large compartment where my protective gear usually goes) nor the camera hanging off my wrist nor my phone tucked into the strap of my left elbow pad. I did not even rip my brand new Saints leggings. (I have brand new Saints leggings! I got them here.).
And then I drove back across the lake to the southshore, listening to podcasts the whole way.
Tuesday, October 5: Audubon Park to Oschner Hospital via the Mississippi River Trail (5.6 miles)
The Mississippi River Trail aspires to continue along the river all the way from Louisiana to Minnesota. This has not yet been accomplished, but some hefty segments are done and ready for travel. Among them is the 60-mile stretch along the east bank from New Orleans to Reserve, Louisiana. I skated the first half hour of that today--which is to say, a half hour out and a half hour back. That amount of time took me from my car in the Audubon Zoo parking lot (Google tells me I was where Aquarium Drive meets West Drive, where the River Drive one-way begins) onto the trail and back the way I'd come as far as Oschner Hospital on River Road.
For the first ten minutes, I seriously considered giving up, turning around, and just skating a lap around the golf course in the park. That trail has been recently paved and is said to be smooth as silk as it circles under the shade of the old oak trees. By contrast, the Mississippi River Trail is in full sun and starts out punishingly rough with no view whatsoever to speak of. But then it finally ascends to the top of the levee on smoother pavement. The view of the river is fantastic. Looking over the city, you get the feeling of being at the top of the world.
Unfortunately, the sun is very much a factor. Despite the trip being shorter than the day's before, and despite the two bottles of water consumed over the hour of travel, I was starting to get slighlty short of breath in that particularly asthmatic way that I associate with impending sunstroke by the time I returned to the car.
If I do that trail again, I'll skip the zoo parking lot and come in by way of one of the access spurs I spotted in Jefferson Parish, one at The River Center and one at Oschner. Just skip that awful bit of trail that's sandwiched between a chain link fence and a parade of what appeared to be industrial government facilities. And I won't forget my sunscreen next time.
So that leaves Wednesday. Wednesday I get on the train to start the two-day trip back to Colorado. I have my usual volunteer reading to do and parents who'll want to maximize our visiting time before I go, so I doubt I'm going to get a chance to skate more tomorrow. Besides, four days of trail skating in a row is plenty; I think my body needs a slight break. But I won't swear not to do any skating in Chicago on Thursday.