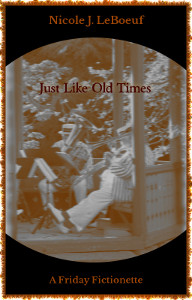 YPP Weekend Blockades, April 15-16: You make bath time lots of fun...
Ahoy and happy Saturday! On Puzzle Pirates this weekend we got a whoooooole buncha blockades to play in, the majority of them starting during the noon-o-clock hour on the Emerald Ocean, and the majority of those involving notorious troublemakers Rubber Duckies of Doom. Well, I say troublemakers, but honestly, I'm told they're my allies, or at least the allies of my allies, so I should go job for them. They're already offering top pay per segment, so that's an extra incentive. Those doubloons ain't gonna earn themselves, ye know.
Meanwhiles, back in what they call the real world, I have the Friday Fictionette for April 14 to announce. Yes! It's up, and only about 12 hours late. It's called "Just Like Old Times" (ebook, audiobook). It's sort of a guide book to a picturesque Old Town you or someone you know might be nostalgic for. It was built to evoke that nostalgia. Nostalgia is pretty powerful bait.
OK so! These two things announced, I am off to earn my PoE and eat my last helping of mirliton cheesburger mac FTW. Have fun!
Standard reminders: Schedule is given in Pirate Time, or U.S. Pacific. Player flags link to Yoweb information pages; Brigand King Flags link to Yppedia Brigand King pages. BK amassed power given in parenthetical numbers, like so: (14). For more info about jobbing contacts, jobber pay, and Event Blockade battle board configuration, check the Blockade tab of your ocean's Notice Board. To get hired, apply under the Voyages tab.
Doubloon Ocean Blockades
*** Saturday, April 15 ***
10:15 a.m. - Doyle-Insel, Opal Ocean
Brigand King holds the island!
Defender: Das alles verzehrende Feuer (1)
Attacker: Pandemic
Attacker: Schmutzige Hände

12:00 p.m. - Cryo Island, Emerald Ocean
Brigand King attack!
Defender: Rainbow Unicorn Glitter
Attacker: The All-Consuming Flame (3)

12:00 p.m. - Tumult Island, Emerald Ocean
Brigand King attack!
Defender: Cluster Service
Attacker: The Jade Empire (3)

12:00 p.m. - Admiral Island, Emerald Ocean
Defender: Rubber Duckies of Doom
Attacker: Going Down
Attacker: Black Queen

12:00 p.m. - Acanthaster Spits, Meridian Ocean
Brigand King attack!
Defender: Trap House
Attacker: Jinx (4)

12:01 p.m. - Sayers Rock, Emerald Ocean
Defender: Going Down
Attacker: Rubber Duckies of Doom

12:01 p.m. - Blackthorpe Island, Emerald Ocean
Defender: Going Down
Attacker: Rubber Duckies of Doom

12:01 p.m. - Bowditch Island, Emerald Ocean
Defender: Going Down
Attacker: Rubber Duckies of Doom

12:02 p.m. - Kasidim Island, Emerald Ocean
Defender: Going Down
Attacker: Rubber Duckies of Doom

12:03 p.m. - Ambush Island, Emerald Ocean
Defender: Rubber Duckies of Doom
Attacker: Going Down

12:06 p.m. - Basset Island, Emerald Ocean
Defender: Keep the Peace
Attacker: Black Queen

12:08 p.m. - Scrimshaw Island, Emerald Ocean
Defender: Caught In Crossfire
Attacker: Rubber Duckies of Doom

12:09 p.m. - Albatross Island, Emerald Ocean
Defender: Caught In Crossfire
Attacker: Rubber Duckies of Doom
Attacker: Pale Element

12:10 p.m. - Ix Chel, Emerald Ocean
Defender: Caught In Crossfire
Attacker: Rubber Duckies of Doom

12:12 p.m. - Doyle Island, Emerald Ocean
Defender: Keep the Peace
Attacker: Rubber Duckies of Doom

12:13 p.m. - Ashkelon Arch, Emerald Ocean
Defender: Keep the Peace
Attacker: Rubber Duckies of Doom
Attacker: Coon and Friends

12:18 p.m. - Kashgar Island, Emerald Ocean
Defender: Technicians
Attacker: Coon and Friends
Attacker: Black Flag

8:05 p.m. - Lilac Island, Meridian Ocean
Defender: Danger Zone
Attacker: Get Off My Lawn