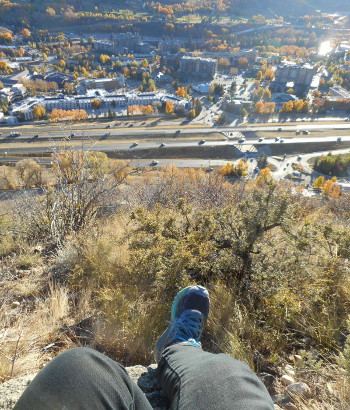 the writer should get adequate exercise daily; one small mountain should be sufficient
First off, I'd like to correct any misunderstandings from yesterday's blog post. I was not, and am not, particularly displeased with the way yesterday turned out. In some ways, it turned out better than today. I did find time to spin, for instance. (I did not get to the spinning wheel today.) I did type up an entire Fictionette Artifact all in one go. (I only managed one page today.) And I visited a roller derby league to join them for practice, which is completely optional while I am on vacation. (I did not put on skates today. But I did exercise. A lot. Read on.)
Yesterday wasn't bad by any means or definition. It was disappointing from only a single point of view, that which asks, "Did I spend time revising short stories and brainstorming the novel, as is my Goal For My Week in Avon?" If the answer is "No, because I did other awesome things with my first day in Avon," then, realistically, the disappointment quotient is limited.
I still haven't gotten to short-and-long-fiction today, either, but after this post I plan to put in a couple minutes on each. Just open up the respective Scrivener files and reread a bit, give my subconscious mind a chance to play in those spaces during dreamtime tonight. It won't be much, but it's something.
Remember: If you can't do a lot, do a little.
Meanwhile, this feeling keeps encroaching on my contentedness, this sort of guilt/shame/regret feeling, this sense that I have to justify being up here in the mountains this week. Like, OK, I typically spend the week holing up in my room to write, venturing forth only to acquire library books or to visit a favorite restaurant (or, occasionally, try out a new one). Perhaps I might take my writing session to the library or a coffee shop, but--aren't those all things I could have done back in Boulder? What extravagance, to drive all the way up here and spend the week in a fancy vacation resort just to do things I could have done at home! Guilt. Unease. Shame!
I have to beat that feeling down with a stick. Whack! "It's about the solitude, dummy!" Wham! "I can't realistically hermit back home, you know!" Thwack! "It's about escaping responsibilities, the sort I can't just pretend don't exist when I'm at home!" Bap! Bop! Boffo! "They surround me when I am at home! I'm available to them when I am at home!" Whap! "I'm on serious me-time this week and you don't get to ruin it!"
Kablammie! Boom! Thud!
Nevertheless, when, via a casual search for charging stations on PlugShare.com, I discovered the existence of the Walking Mountains Science Center, I thought it would be a pity not to check it out this week. So I made time for it today.
I got there around 4:00, an hour before closing. I wanted to get there earlier, but I mistook the turnoff for being just the medical center parking lot and wound up driving pretty much the whole of Buck Creek Road from Nottingham to Metcalf, passing all the big beautiful residences with intimidatingly gated private drives as I went. (EV report: I left the garage with a 30-mile range estimated on the battery. At the highest point of my drive that got down to 19. After coming all the way downhill again to the Northside Kitchen parking lot to grab some internet and check my directions, the car was estimating a 30-mile range again. Mountain driving. I'm telling you.)
(The Walking Mountains Science Center does, by the way, have EV charging stations. They seemed to be working as advertised, contrary to Johnny V's recent comments on PlugShare.com. At least, both were in use by staff vehicles, and I'm sure the center's staff wouldn't let them get into a state of disrepair if they mean to use them for their vehicles. I can't tell you for sure; I didn't get to use them myself. But that's cool. I have discovered two additional parking spots in my hotel's garage with access to a wall plug on the support column between them. I am all but assured a convenient source of charge now regardless of what the driver of the black sporty not-electric-at-all car does.)
Anyway, with only an hour until the center closed and only some two hours and a bit until sunset, I thought it would be best to save the indoor science exhibits for another time and instead hit the nature trails.
The nature trails were fantastic, full of fabulous playspaces and outdoor "classrooms" that must really excite the kids around here. The kid inside me was sure delighted. But the real adventure began when I headed up the steep and alarmingly slippery switchbacks that took me up to the very top of the mountain, at an elevation of 8,050 feet according to the little trail map they gave me in the center. (HikingProject.com says the switchbacks belonged to the Saddle Ridge trail while the trail running the top of the ridge was the Overlook Trail.) The views from up there were stunning. The trail deposited me at the feet of three burly towers whose support cables and, I think, power lines were chittering in the wind. To the north, the ridge-top trail followed a couple saddlebacks to another peak, which I investigated, and beyond that a steep downhill trek into the valley, which I didn't. South of the towers was what the map called a "picnic area," leading me to expect some tables and benches strategically positioned to overlook the town of Avon. In fact, it bottomed out in a wide plateau covered in sagebrush and other flora: taller bushes with coin-shaped leaves gone red, shorter bushes with thorns and the serrated oval leaves of the rose family. The only furniture was a long-abandoned camp chair folded up in the grass, its canvas rotting away. (I stood it upright and took a picture.)
The headland ended at a steep drop-off above I-70. I found a great big boulder to sit on, and I baited my acrophobia by dangling my legs over the drop and forcing myself to identify the buildings below--Sheraton Mountain Vista, Four Seasons, Lodge at Avon, Comfort Inn, post office, Walgreens, Vin 48 and Blue Plate, the rec center--like sort of telling rosary beads or creating my own non-Dune-related litany against fear. Baiting acrophobia from a more-or-less safe spot can be kind of a thrill. I imagine it's the sort of thrill bungee jumpers and sky divers get, only way down the intensity scale and a lot quieter.
So that was about an hour and a half of intense walking and climbing. I felt that was an admirable amount of exercise for the day, for me. It is important for writers to get adequate exercise daily, to compensate for the sedentary nature of our work. Chuck Wendig says, on Day 13 of 30 Days in the Word Mines, that you should "[g]et up and move from time to time. Again: usher that sluggy blood around your floppy, galumphing human frame." I would say I unslugged my blood and unflopped my frame quite well today.
(Don't worry, Papa Whiskey; I still did my half hour core workout tonight!)
Certainly I felt it was enough exercise to justify dinner at the Northside Kitchen when I got back down the hill. I had only been to the Northside once before, a year or two ago, for a late breakfast, so I was expecting the same high-quality greasy spoon experience I had back then. Turns out, though, they fancify at night. They put out tableclothes and candles. They distribute wine lists with the sorts of wine on them that are $19 a glass at a discount. Their menu includes giant sea scallop, halibut, filet mignon. I said "what the hell" and indulged in their current special, a 3-course meal for $29.95 ($5 upcharge if you choose lobster ravioli for your entree, which I did). I also had iced tea. (I did not have the discounted $19-per-glass wine, but I was tempted.) Everything I had was wonderful. Only, everything the next table over ordered looked wonderful, too, and they ordered all different things than what I ordered. I wanted to come back and do it again with what they ordered. But, really, one $50 meal per week is plenty and possibly too much.
To be fair, I have been doing a lot of eating in house, at least two meals in for every one meal out. That is pretty darn good for being on vacation! I'm staying in the non-deluxe half of the resort's lock-off, which means I don't have a stove-top. The resort does, however, provide electric hot plates of the two-burner type, one large and one small, on request. I asked for one. They brought it right up.
Then I tried to cook with it.
It was going to be a potato-squash-greens-egg hash, like the sort I make at home all the time. No grater was available, but whatever, I am capable of slicing root vegetables and gourds thin. Problem was, after the veg was in the pan on HIGH for about five minutes, no sizzling nor indeed any cooking at all was in evidence. I took the pan away and place my hand palm-down on the cooking surface. It was... warm? Like a hot bath, or the sides of my mug after the tea has cooled down just enough to drink.
I made potato-squash-egg casserole in the microwave/convection oven instead and called down for a replacement.
Today I tried out the replacement. It represented a fifty percent improvement in that one of the cooking surfaces was functional! The small one, but still. It was enough that I was able to cook dal with baby kale and a poached egg for lunch today, albeit somewhat slowly.
Would you like to cook dal with baby kale and a poached egg? I just bet you would. You will no doubt have your own favorite recipes, but just in case you want to compare notes, here's my process. (You will note it differs somewhat from the classic/traditional process. To that I say, Oh well.)
Sautee about half an onion, chopped how you like, with two or three cloves garlic, minced, in cooking oil. I prefer about one tbl canola oil and one tbl mustard oil, but you do you.

While the alliums sautee, add whatever greens you have on hand. Thanks to my CSA membership, that's most often kale or chard for me. Destem the kale, even if it's baby kale. Destem baby beet greens, too. I mean, unless you like tough little strings in what ought to be a very tender meal. This is a good time, by the way, to add like a half tsp of salt; it helps the veg wilt and release its juices, and besides I find the whole dish benefits from a generous application of salt. Black pepper, too.

When the greens are wilted and the onions soft and yellowish, add about a tsp each tumeric and whole cumin seed, maybe make it 2 tsp cumin seed. Also a tsp or so hot chili flakes, to taste. Let spices heat up about a minute. The fragrance will get quite strong.

Add like half a cup of dry red lentils. Maybe three-fourths a cup. Stir 'em around. I don't know why I do this. Maybe because I used to cook Rice-a-Roni and the box instructions had you heat up the dry rice and 'roni in the sautee before adding the water? Maybe I have acquired a useless habit? Anyway, when you're ready, add the water. About twice as much as your lentils plus a few tbl more. Maybe this is an altitude thing, or a low humidity thing, but I find I have to use more water than I did in Seattle or New Orleans. More water seems to boil off in Colorado.

Let it come to a boil, then simmer, covered, for some 20 minutes or so, whatever it takes until the beans aren't chewy anymore. It took more like half an hour on the fifty-percent-functional hot plate.

Once the beans are tender, crack an egg into the middle of that hot mess. Push the beans up around the sides of the egg. Tuck that egg into bed. Replace the cover, allow to simmer for 5 minutes more or until the egg is whatever level of cooked you like.

Ladle it into your bowl, let it cool as long as you can bear to wait, then hopefully don't burn your mouth when you scarf it all down.
Now my whole hotel room smells wonderful.