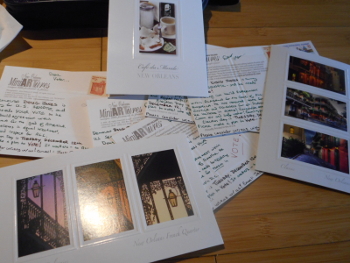 look at that forecast little orphan annie LIED to us
So I'm back in Boulder and I actually do want to upload blog posts for the week that I was in New Orleans because I have THOUGHTS and this is how I share them. There will be backfill. Maybe tomorrow. Tonight I am tired, because today I did all sorts of doctorish things, including having seven vials of blood drawn because apparently there is only so much you can condense all the annual wellness checks and I seem to have more annual wellness checks than I used to. Forty is a magic number! And I was very good and did my twice-weekly half-hour core workout, yay. Also I did quite a bit of the writerly things but not enough of them (I promise I am doing NaNoWriMo! I am!) because there is NEVER ENOUGH TIME.
Well. Tomorrow is a new day. Isn't it always?
I got back home around 9:30 yesterday morning. The train got in around 6:45, which was early, but the first bus for Boulder didn't leave until almost 8:00, and then the bus from the station to my neighborhood left around 9:00, and then I had to walk a few blocks with my luggage rolling along. Uphill. Through a construction zone. So. Technically I was early enough to make it to the back half of Sunday practice and then watch WFTDA Championships with everyone else, but I was kind of done in by the time I got home and it was easier to just keep being a New Orleanian for a bit.
Which is why I got on my bike and headed to the neighborhood bar to watch the Saints game instead.
The Saints won. And the sun came out. It was a pretty OK day.
Also I wrote postcards! I wrote ten postcards. Remember those postcards I picked up at Scriptura and that lovely green fountain pen ink? (Sure you do. I wrote about them in Friday's post. I haven't yet written that post, but once I do I will go back in time to plant it oh-so-casually in the blogstream. Backfill is coming.) I made use of those postcards and that ink in the cause of Postcard to Voters Campaign #32, getting out the vote for Alabama's Doug Jones for U.S. Senate. (His opponent is Roy Moore, if that helps give an idea of the urgency of the race.) This the very first statewide Postcard to Voters campaign ever, and in order to reach every address on their list in time for the December 12 special election, they need a whole bunch more volunteers. This is me, doing my part. If you feel so moved, you can email "join" at "tonythedemocrat" dot "org" to get started.
And that's me for tonight. Like I said, not as much as I hoped to report, but they tell me the sun'll come out tomorrow. OK, well, maybe it won't, maybe it will snow, but the planet will darn well rotate, causing the sun to darn well rise and tomorrow to darn well happen. Which I intend to take full advantage of.