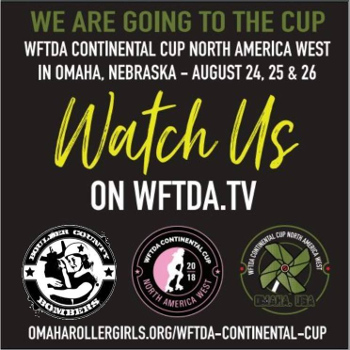 derby to eat my weekend live in HD
Hi, y'all. I'm in Omaha (well, actually, Ralston), Nebraska at the Holiday Inn that shares a parking lot with the Ralston Arena (see?), and tomorrow is Day 1 of the North America West Continental Cup. Basically, it's Division 2 Playoffs only under a new regional structure. And the Boulder County Bombers are playing.
Here's the page with the livestream.
According to the bracket/schedule that's on the same page, we play tomorrow at 2:00 PM Central Time. Our opponents will be the Happy Valley Derby Darlins, out of Utah County. After that, our next game will be Saturday: at 10 AM if we win our Friday game, or at 2 PM if we lose it. (Obviously we hope to win it.)
I'll try to post updates as the tournament progresses.
If you watch, what I tell everyone is, look for the short blocker with the long braid skating under the number 504--that's me. Alternately, look for the skater with the long, colorful hand-knit stockings. "Aren't you hot in those socks?" "Of course. I look hot in all my socks."
If you can't watch live, you'll be able to watch it in reruns. Soon after the end of the tournament, probably by the middle of next week, all NAW Cup games will be available to watch free of charge in the WFTDA.tv archives. But of course by then it may be difficult to avoid spoilers.
That's about all I've got right now. Driving from Boulder to Omaha pretty much wiped us out. Right now I'm just lying here in bed, exhausted and pleasantly full of terrible insta-meals from the hotel pantry, listening to the derby sounds emanating from Papa Whiskey's computer while he does some last-minute "know your enemy" footage review. I should be watching it too, but I'm not sure I can make it all the way to the other side of the bed at this time. That would require energy and volition and stuff.
So for now I will give in to the sleepies, the better to wake up bright and early. Hotel breakfast starts at 6:30, and the tournament track will be available for testing our wheels on from 8:00 to 9:00. I do not consider either event optional.