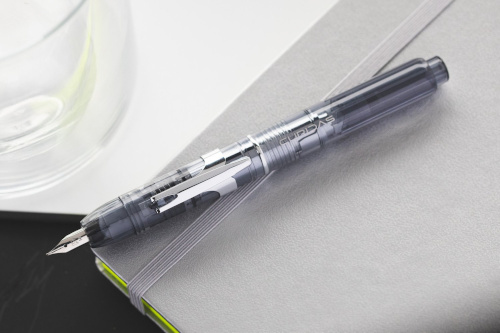 did i mention i love fountain pens i may have mentioned this once or twice
I am very excited! The Goulet Pen Company has at long last resumed shipping orders, and the pen I ordered is scheduled to arrive SATURDAY! Eeeeeee.... This is it: the Platinum Curidas retractable fountain pen. I've never owned a retractable fountain pen before. I hope it's as pleasant to write with as it is to look at.
I ordered it because April had begun, which meant my birthday was coming up, which meant I should give myself a treat. Well. Turns out I should have waited until the actual date of my birthday, because that's when Goulet sent me a Happy Birthday email with a coupon code for a free random 8-pack of ink samples. And of course then it was way too late to add that coupon and item to my fancy pen order! *facepalm* And, what with the pandemic and all, all Goulet shipments were on hold while all Goulet staff were working remote. Shipments would resume when it was safe to return to the building, whenever that would be. I didn't want to have two orders sitting in limbo.
But then I got the email saying that my pen was on its way! Also, I'd just run two of my J. Herbin bottles dry. So, what the heck, how about I order some replacements in the blue-to-turquoise range, maybe try out a couple Noodler's inks just to shake things up? And then thwack the free samples on top, since the coupon code was good for up to 30 days past my birthday?
But Goulet's free shipping offer only applies to orders of $50 or more. Two bottles of ink comes only up to about half that...
So I ended up ordering four Noodler's bottles. Coupla turquoisy blues (Liberty's Elysium, Blue Nose Bear) and a couple of excitingly heirloomish reds (Red Black, Black Swan). And the "Surprise me!" 8-pack of samplers free with birthday coupon code, of course. WELL PLAYED, GOULET.
No idea when that will ship--Goulet's got quite a backlog to work through--but I'm sure it will be a delightful surprise in more than one way when it arrives.
In summary: SQUEE! FOUNTAIN PENS!