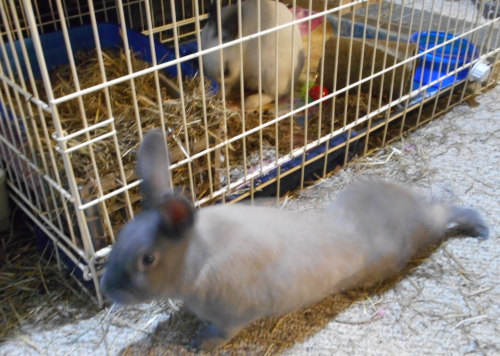 the new normal includes anxiety but also bunnies
All right. We did it. We made the decision, and no one will be surprised: John and I are adopting the bunnies. Maybe it would have been different if the pandemic had not occurred and our lives had remained busy and full of travel for derby and gaming and whatever, maybe then we would have said, "It's been nice having them, but it's nicer still to bring them back to the Bunny Barn and not be tied down anymore." Maybe. As a wise lion once said, "No one is told would would have happened." What we know is, right now, right here, in this timeline that is actually happening, the joy that Holland and Gemma have brought into this household is worth the responsibility leash.
So they get a forever home, and we get furry hooligans running around the sofa indefinitely. (And also licking it, because it has a flavor.)
Pictured here: Bunny yoga. Holland is doing a low plank. I'm amazed I caught that moment on camera; it's a very transitory thing. He just happened to decided he needed to stretch right as the camera went off. Meanwhile, in the background, I guess Gemma is thinking about child's pose?
It's been more than a week since they got their RHDV2 vaccinations, so they're officially as immune as they'll ever be. That means we no longer have to be so fastidious about separating outdoors from indoors. But after six weeks of slipping on shoes even to water the plants, wandering the neighborhood barefoot feels like a monstrously irresponsible and dangerous thing to do. The emotional habit of caution is a strong one. I suppose it'll take a little while before that feeling downgrades to one of simply breaking a taboo or getting away with something, and then finally fades away to nothing at all.
When I extrapolate that to the pandemic, it's alarming. We have been, and will be, following social distancing protocols for much longer than that. It didn't take but a couple weeks into Colorado's stay-at-home order for me to begin having social distance anxiety dreams, dreams where my main conscious thought was NO! WRONG! THAT IS NOT EVEN CLOSE TO SIX FEET! AND YOU'RE NOT WEARING A MASK! I'm still having them. And yesterday I went out to a Longmont restaurant to see a friend who was in from out of town, and it was nice, but all the consciousness of does my mask fit OK? and are we six feet apart? how about the restaurant server passing behind me to the next-but-one table, are they six feet away? what about those people walking down the sidewalk so damn close to the patio seating? They're not wearing masks! It just shoved my stress levels through the roof. I didn't stay long, and when I came home, I pretty much went right to bed and stayed there for hours, exhausted. Like, that's enough restaurant-going for the month of June, thanks muchly. Next time, let's bring take-out to a park and sit on our separate socially distanced picnic blankets, all right?
(I'm hearing that a local roller rink is open again. I'm also hearing that risk for contagion is highest indoors among groups who are shouting, singing, and/or breathing heavily. I'm also hearing that the roller rink isn't requiring skaters to mask up. I'm thinking trail- and street-skating still sounds like the option that's most compatible with keeping Colorado's COVID-19 case rate on the decline.)
Assuming, as I optimistically do, that one day we will not need masks and social distancing: how long will it take my brain to calm down and be OK with peopling in public again? Will it ever reach the levels of OK it used to have--which were never all that great to begin with--or has my social introversion leveled up permanently?
Which is another compelling argument for adopting these bunnies. Watching them go about their daily bunn business is soothing. And I kinda need all the soothing I can get.