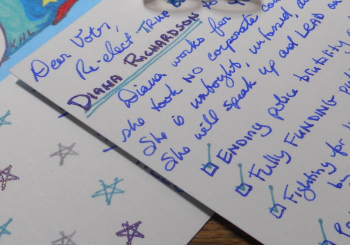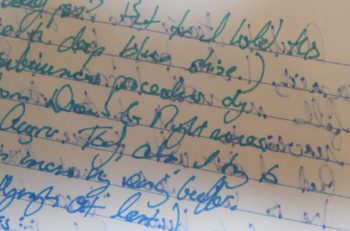 we pause for a deep dive into more fountain pen ink
This past week, I took advantage of my Morning Pages sessions and another batch of Postcards To Voters to further explore the newly arrived fountain pen ink. Let me introduce you to them all.
The excitingly sparkly purple-maroon I used in some of the stars and to highlight the candidate's name is Diamine Mystique. I don't think the splotches Goulet includes in their demonstration photos quite does it justice; that color-and-glitter combo is intense.
The teal stars and checkmarks were drawn with Noodler's Blue Nose Bear, described as "a light blue with a teal undertone, and the light blue fluoresces under UV light (blacklight)." (I have not yet had occasion to test this feature.)
The main writing on the postcards is in Visconti Blue. Not terribly exciting. It's a nice enough blue, I guess, bright and deep, a decent workhorse for, say, writing postcards to get out the Democratic vote, but still, it's just blue. (I'm not likely to get excited over the Pelikan Edelstein Onyx that was included in my random sample 8-pack, either. It's just black.)
The excerpt from my Morning Pages shows what happens when a converter full of Noodler's Liberty's Elysium finally overtakes the Blue Nose Bear left in the nib. Liberty's Elysium is another serviceable if unexciting (to me) blue. It's slightly toward the blue-green end of the spectrum, where the Visconti Blue leans slightly toward the indigo end.
There are some gray/silver stars on the postcard, but those aren't from the batch of ink I just ordered. That's what happens when I try to stretch the tail end of a bottle of J. Herbin Stormy Gray 1670, a shimmer ink, by dumping in the latter half of a bottle of basic J. Herbin Gris Nuage.
Hot tip about the Noodler's inks: Those 3-ounce bottles arrive hella full. Well past the screw-top threads and right up to the brim. I'm not sure if this is because the manufacturer is very generous with his ink or very stingy with his glass. I'm amazed the ink didn't ooze out during its journey to my high-altitude address. Anyway, having been messily surprised by this when I first opened the Blue Nose Bear, I was very careful about opening the Liberty's Elysium. I set the bottle on my desk and opened it very gently. Didn't help. Still wound up with bright blue fingers. Not that I really mind ink-stained fingers. It's kind of a fun sort of badge of honor. "I messed with inks today! Checkitout!" Still. If you would prefer not to have bright blue fingers, take heed. Open these bottles carefully and maybe wear latex gloves.
Here ends the Geeking Out About Inks portion of this blog post. And also this blog post, period. I'd intended to pivot through the political postcards into some political thoughts I've been having these past couple weeks, but at this point I rather feel like I've already used up all the words, time, and reader attention in today's blogging allowance. So I guess look for those political thoughts tomorrow?