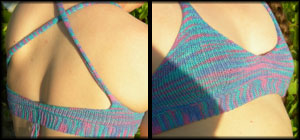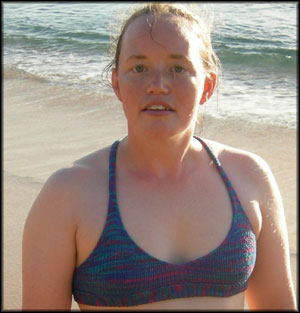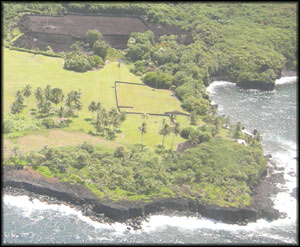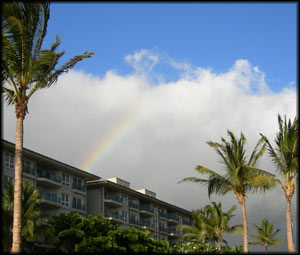 What I Did On My Summer Vacation
Also, the satisfactory conclusion of the bikini experiment.
Saturday: John and I discovered Maui Public Transit. We also discovered that the Westin staff are somewhat reticent about this. "No, we don't have a schedule for the bus--but we have a great free shuttle!" Thank you, but we're hoping to actually get out of Ka'anapali. Ka'anapali is beautiful, but I am told there is more to Maui than the various hotels and timeshare resorts lined up along the beach here.
In fact, there's the town of Lahaina. John and I spent some time wandering up and down Front Street. It's a bit touristy, but we managed to find the Old Lahaina Bookstore. Also the library.
Sunday: We woke up at 1:30 AM and stumbled downstairs to await the Maui Downhill van. Today was our day to view sunrise from atop Mt. Haleakala and then coast all the way down! Alas, when Maui Downhill hears "Westin Ka'anapali" they think, for some reason, we mean the Westin Maui Spa & Resort rather than the Westin Ka'anapali Ocean Resort Villas. This should have been trivial to correct, but what with the ongoing brush fire outside Ma'alaea and all the attendant smoke, radio communication was futzed. And the drivers don't have cell phones. Why don't the drivers have cell phones?!
We rescheduled for Monday and went back to sleep. We managed to sleep through the very thing we'd lamented scheduling the Maui Downhill trip against: the weekly Lahaina Craft Fair. Dammit.
Later that afternoon: More wandering about Lahaina. The discovery that Cheeseburger In Paradise does gardenburgers. Also, a visit to the Chinese Museum and Taoist Temple on Front Street.
Monday: Another 1:30 AM wake-up. And the van showed up this time! Yay! Our driver and our tour guide were both absolutely wonderful, but they insisted on playing Sheryl Crow on the drive up to the top of the mountain. Discovering the rest of the album was detrimental to my already minimal appreciation of the artist. I'd have preferred that Presidents Of The United States Of America album that the tour guide had on him.
We were about an hour atop the mountain. Stargazing was excellent; a breathtaking amount of twinklies were visible, and we even got a shooting star. Sunrise was just as lovely as advertised. The crater is just as immense. And the summit just as cold.
We got to check out the observatory higher up the mountain and admire the rare spectacle of a Silversword plant in bloom. Those things live anywhere between 2 and 50 years, and they bloom only once. They have very shallow root systems, too; we were told not to walk off the path for fear of unknowingly damaging them.
Our tour guide told us all sorts of interesting things about Maui. For instance, pineapple farming is a dying art on that island because, apparently, Del Monte and Dole are taking their operations off to the Philippines. They don't like the expense of paying their workers a fair wage under U. S. labor laws, see. What they have to pay hourly in Hawaii they would only have to pay daily elsewhere.
/me makes mental note not to buy Del Monte or Dole pineapples ever again; from now on it's Maui Gold if I can get it.
Also, sugar cane. It's a grass. They plant it any which way, no walkable rows necessary, and then when it's time to harvest, they set it on fire. "That fire you see off to the left," our tour guide told us in the pre-dawn hours, "it's not the brush fire you've been hearing about. It's a sugar cane field, and the burn is planned and controlled." Apparently, the fire causes the sugar cane to pull up all its juices from the roots and into the stalks as a defense mechanism--the wetter it is, the less it burns. So there's more sugar in the stalks, and what's more, the fire causes it all to get a little carmelized, giving it a texture akin to molasses. Then the stalks are sent to the one remaining sugar mill on Maui (another dying agricultural art there), where "sugar in the raw" type stuff is produced. To get white sugar, this raw output is sent to the mainland and milled further and bleached and sent back to Maui to sell at about $1.50 extra per pound over mainland prices. Yay commerce!
Apparently the reason Maui has remained so agricultural, instead of going all condo, is the Baldwin Piano Company. The Baldwin family/estate consider Maui their pet project. Viva.
The ride down the mountain took us through several different environments. At one point there was cloud on the road--the peak of Mt. Haleakala is above the clouds. At another, there were cattle practically on the road, making a very irritated "muuaaaawww!" noise. Our noses got treated to the scents of eucalyptus groves, a lavender farm, and white ginger flowers. Finally we ended up at a little roadside cafe and general store for breakfast. John had french toast, I had a breakfast burrito, and for later I bought a jar of mango chutney and a bag of handmade coconut candy. That coconut candy was good.
Back at the hotel, we napped a lot, getting up in time to go to a luau at the resort two doors down--"Myths and Legends," I think it was called, hosted by the Royal Lahaina. We got in kinda cheap by reserving with Boss Frog's, but when offered an even deeper discount if we agreed to attend a timeshare salesman's presentation, we demurred. Time is precious, after all. An hour and a half spent listening to a sales pitch is an hour and a half not doing something delightful and vacation-y. Like, say, sleeping, or playing another round or two of "The Mysteries Of Horus" on my computer.
We walked along the beach until we got to what looked like the right resort, and then squiggled a bit to find our way to the proper entrance. The band was playing ukelele-and-yodelling music--I had thought ukeleles and yodelling were just an unfair stereotype, but no, this is actual Hawaiian music. "On the Island," sang the band, "we do it Island Style, from the mountains to the beaches, from the windward to the leeward side." They sang the words in something remarkably like an Irish accent, and the tune was suspiciously similar to the Kinks' "Come Dancing."
The buffet was yummy. I had extra helpings of all the meat items: coconut-crusted mahi mahi, teriyaki-style steak, and the traditional pulled "Kalua Pork" which was ready far too soon after the men displayed the pit-smoked pig carcass for all to see. I suspect they serve today's pig tomorrow. There were also complimentary drinks of both the soft and mixed variety, which the nice man gave us each two of after we'd made our selections. I only drank one of my Mai-Tais, though. After that I switched to coffee.
The hostess was lovely, but would have fit in equally well at a Las Vegas lounge or on a cruise-ship. "A-loooooooooooow-ha!" she sighed at the audience, and waited for us to holler it back. ("When she says 'Aloha' that way," I wondered to John, "is it Hawaiian for the Animaniacs' trademark 'Helloooooooo Nurse'?") When she sang traditional songs she sounded lovely; when she sang lounge lizard songs, she got all hoarse and breathy and sounded like she oughtn't to sing at all. She led an extremely Protestant Christian style prayer before the buffet ("this we pray in Your Precious Name, Amen") as though to ask Yahweh forgiveness ahead of time for the glorifying of the heathen traditions of the Tahitian, Hawaiian, Polynesian, and Samoan cultures that was to come, and she described every dance and song whether modern or traditional in terms of love and romance and whatnot. But the dances were worth watching, and I could kind of imagine what actual religious or ceremonial function some of them might have served.
/me makes mental note to better plan visits to sacred sites and exploration of pre-Christian island religious practices next visit.
At long last, at the end of the luau, there were fire dances. John specifically wanted to see fire dances. Aside from the one man performing Samoan-style with the double-ended staff, all the fire dancing was a little pedestrian compared to some of the really spectacular stuff I'd seen at my sister-in-law's housewarming party the other month (and no doubt compared to what was going on this past weekend at Burning Man), but the fact that just about every dancer in the luau cast was doing something fiery was worth applauding.
Tuesday: Recovering from yesterday. Sleeping late, playing more computer games. John decided that what he needed was a manicure, so we sought the concierge's assistance in acquiring this. There was no salon at the Villas, but we were welcome to go to the Westin Maui. Which we did. John went to his 3:45 appointment while I lounged in the courtyard with a pineapple ice and teased the parrots. Both the cockatoo and the blue-and-yellow macaw named Bob could say "Hello!" "Hi!" and "Aloha!" Bob also knew how to wave hello, but I'm afraid that, with his left wing bobbing about above his head, he looked like a particularly uncoordinated person patting his head and trying hard to figure out where, in that rhythm, to fit in the tummy-rubbing.
The lady from the cafe who had turned pineapple chunks into the icecream-like substance I'd just eaten picked a macaw feather out of the bushes and handed it to me. "So are you waiting on a room?"
"No, on my husband. He's in the salon having a manicure."
This made her laugh, a bit too much I thought. You know, the way people laugh a little too big when you've just said something that made them uncomfortable? It had something in common with the doubletake the salon staff gave us when we assured them that yes, it was just him, not me, nothing for me, thanks, I'll be in the bar.
Around that time the swan came up to me and warbled like a puppy, or like one of the Three Stooges ("woo-woo-woo-woo!"), in hopes that I'd throw her some bread. And a flamingo, deciding it was on the wrong side of the lagoon, ran across the water with its wings flapping madly to get to the other side.
John came swimming with me today. Yay! I'd been trying to get a little ocean dipping in every sundown, but this was his first time joining me. We swam a little off the beach outside the Westin Maui, and then a little bit more back at the Villas, "because," as I told him, "you've got to check out these neat weird fingers of volcanic rock that start just a few feet out there. You can stand on them and everything."
(Those of you who know Ka'anapali Beach can stop laughing now. I hadn't bought goggles yet, what did I know?)
Wednesday: Lahaina again. Labor Day weekend done, the library would be open. Also, there's this century-old banyan tree in the Courthouse yard that's worth seeing. It looks like a forest, but it is, in fact, one tree. Banyans have a similar problem to live oaks: they make very big, very heavy branches that need support. Live oaks solve this by letting the branches dip until they rest on the ground before reaching upwards again. Banyans, apparently, solve this instead by sending down liana-like roots to form a supporting column that looks like a brand new tree, especially when the roots come down from a higher tier of branches and totally engulf a section of branch below. And, as branches do when you tie a rope around them, the banyan branches below grow into and around the roots coming down from above until it's just one solid mass of tree.
The sign said "No climbing." Dammit.
Also, lunch at The Blue Lagoon, whose pineapple fried rice has won an award at the Taste of Lahaina event, which we were one weekend too early to attend. Great stuff. But by now I was starting to get sores in the corners of my mouth from all the unaccustomed tropical fruit.
Today we wandered off of Front Street and through the residential neighborhoods, and found ourselves at the historic old fort/jail at Prison and Waine'e Streets. Outside the huge coral wall, an ancient Model-T and an iron cooking vat have been left to rust away to nothing, but signs posted next to them invite passers-by to appreciate them while they remain in recognizeable shape. The huge ship's anchor was doing better, having been built to withstand the sea water. Inside the courtyard was a mango tree, with ripe mangos just lying all about the place. I picked one up. Bird noises that were not myna birds or doves were emanating from behind the tree, so I headed back there and discovered the jail birds. Four parrots--one green and three gray--in a big cage, all of them yelling "Hello!" at us and squawking. After watching them for a bit, I started slicing up the mango and handing them slices, which they accepted gravely and with great decorum. When the mango was all done, I tossed the seed into the cage and we started to leave.
"BYE!" yelled the parrots. "BYE!"
Thursday: Today we left our habitual stomping grounds and caught an extra bus into Ma'alaea so we could visit the Aquarium. The Aquarium has an awesome reef exhibit with lots of neat fish in it and all sorts of educational plaques. It has a shark exhibit, too, and a guy who swims with the sharks. There's a tide pool exhibit where you can touch, gently, the starfish and the sea urchins. And there's an expensive but delicious restaurant with a kick-ass seafood salad and a signiture bloody mary mix that involves at least half a bottle of tobasco per glass.
We let one bus go because we wanted to bop around the harbor shops for a bit. Five minutes later we had seen it all and regretted letting the bus go. An hour later, we realized that there is no bus back to Lahaina at 1:50 and we'd have to wait another hour. During that time, I finally finished knitting the top half of my bikini experiment, which you can see in the pictures above. I am happy to say that once we got back to the Villas and I surf-tested the bikini top, it withstood everything from freestroke to being dragged across the sand by a particularly violent wave without ever baring my boobies (such as they are). Next time I try out this pattern, I might increase a bit more from the bra line to the bust, and I'll probably use #3 needles for a tighter guage to better avoid nipples peeking through. But, imperfections regardless, I've still got a functional bikini top. Yay!
We got a rainbow that afternoon. We got rainbows practically every afternoon. "Tuesdays, Thursdays, and some Saturdays," John had joked when we saw our first one on Saturday while riding the bus home from Lahaina. Thanks to the near-constant low-lying clouds over the western mountain, which seem the reason for the rainforest in the 'Iao Valley, he turned out to be 100% correct.
The day before, John and I had bought goggles from the general store. After the photo shoot with the bikini top, I put those goggles on and took a closer look at what I'd thought were "fingers of volcanic rock." They turned out to be actual living coral reef, complete with all the little bright-colored fishies from the Aquarium's "upper reef" exhibit. Including the round brown one with the bright blue snout and the orange bands around his lower half. And there were anemonae in the cracks! I am never stepping on those "rocks" with my bare feet again!
Friday: Up at 4:00. Why? Because the moon was full. Beautiful time to go swimming.
Rented a car. Drove up to 'Iao Valley State Park. Saw the 'Iao Needle, the botanical gardens, the exhibits commemorating the different peoples to immigrate to Maui, and a heck-a-lot of highway. Had lunch at Marco's, the very place we had dinner while waiting for Highway 30 to open up a week ago. And had a flight lesson which involved four touch-and-gos at Hana and a lot of picture taking.
With a few more hours to kill before our flight off the island, we took the flight instructor's advice and wandered off to Pa'ia... where we just happened to bump into a high school classmate of mine: Daniel Sullivan. Last I heard, he was being a professional photographer in Afghanistan. Now he owns a shop called Indigo, which specializes in Indian imports and displays a wall full of his photography. Apparantly, if you own a shop on Maui, the world comes to you; a couple months ago, another of our classmates, Geoffery, wandered through, too. We exchanged highly summarized versions of what we'd been up to since graduating Country Day in '94; we exchanged Katrina stories (another one of our classmates, Warren, whose mother keeps in better touch with a lot of the class of '94 than its actual students do, only discovered that someone had been camped out in his house when he saw the "squatter" wearing Warren's football shirt on the National Geographic documentary); we exchanged web page addresses.
So that was extremely cool.
We also got propositioned by a marijuana salesman on Baldwin Beach, and we had tofu stir-fry and excellent sushi at a bistro a couple of blocks down.
And then we headed to the airport, where I had to give up the mango and dragonfruit I'd hoped to eat on the plane, because agricultural restrictions go both ways.
/me makes mental note to chop the fruit up and put it in a jar next time, as canned fruit appears to be A-OK.