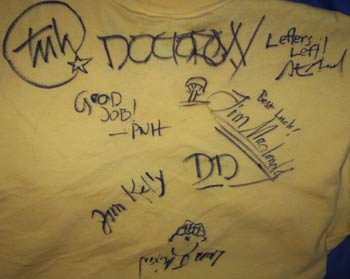 Home Again, Home Again, Jiggity-SNOW.
59,193 words (if poetry, lines) long
128.50 hrs. revised
5,000 words (if poetry, lines) long
Hurrah! In addition to being a newly minted Viable Paradise graduate, I have also survived the journey home. All the trains were hyper-fast this time around, so I ended up puttering around stations a lot (when I wasn't hiking around downtown Chicago). And I got home just in time to catch the winter's first snow on the valley floor.
Me, during the ride home: "Wow, look at all those low-lying gray clouds over the mountains. Think it might snow today?"
John: "Maybe."
Me, some 4 hours later: "Definitely."
I have mixed feelings about coming home to snow. I was pretty much done with appreciating the mystic beauty of snow since March '00. Since then my attitude ranges between tedium ("Oh, Gods, more snow") and guilt ("Don't bad-mouth it, we need the moisture"). But at least I wasn't somewhere warm like Maui or New Orleans this time, for the climate contrast to really rub in that vacation is over. New England was pretty blustery; the instructors, particulary Jim Macdonald and Teresa, were commenting on this being the coldest VP yet.
So I have a lot of work to do this week. I have the final (for now) StyleCareer.com eGuide to complete and turn in; I have comments on The Drowning Boy to compile and compost; and I have a revision of "Putting Down Roots" that really has to happen, like, now. MacAllister has threatened me with dire abuses should I fail to send a copy to Ellen Datlow by November. And Mac knows her stuff. Do not cross that lady.
But right now I am enjoying being back in my own house, napping in my own bed, and having a long, guilt-free soak in the bathtub. Work can happen later on tonight. Thththbbbp.