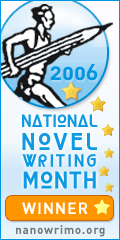 NaNoDoneNow
50,347 words (if poetry, lines) long
Not, however, the novel. I took my own advice and jumped forward to the Gala Bookstore Grand Opening scene, and didn't even get through that before crossing the mythical 50K line. I did have another one of those plotting breakthroughs, though. I realized I should conflate Charles Welton (father of vanished Sam, fomenter of anti-Bookwyrm sentiment) and the beat cop (also fomenter of anti-Bookwyrm sentiment and an extra rock to throw at Gwen whilst she is up her tree) because 1) they served too similar functions, and 2) that would make things even harder for Gwen. Bad enough when the police officer she should be able to rely on for protection thinks she's guilty, if only by association, of unspeakable things; worse when said police officer has been directly affected by said unspeakable things.
So what's up in December, eh? Well. Wouldn't you like to know. I think I shall continue working on this novel, 2K a day where possible, but I'll make a more concerted effort to also allot time for short story rewrites. You'll notice, for instance, that I haven't blogged about finishing the rewrite on either "Turning the Earth" nor "Seeds of Our Future." There's a reason for that. Maybe I could have done it if I wasn't also one of the Boulder NaNoWriMo Municipal Liaisons. Maybe I could have done it if I hadn't spent so many Tuesdays and Thursdays sleeping past noon, dammit.
I may begin upping my articles/essays output, as I won't have any immediate paying projects in December. Between Constant-Content (who seem themselves supportive even if I have to get medieval on one of their customers) and a new venture my current non-fiction editor is possibly undertaking, there will be opportunities for such. Also, it's really about time I wrote something to send to a Blessed Bee publication again. It's been far too long since "Faith Based Charity, Pagan Style."
And speaking of RichLifeMedia, blogging at Splendid Gardening will be on hiatus in December. I'll continue blogging here, of course, and also at Denver Metblogs.
Sounds a lot like a New Year's Resolution post, doesn't it? Well, when NaNoWriMo ends, it's like a brand new year dawns on December 1. Try it sometime! You'll see.