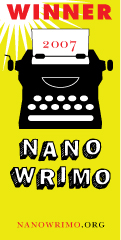 Oh, Yeah, I Remembers Now, I Gots Dis Blog
55,108 words (if poetry, lines) long
Did I forget to post here and say that I won NaNoWriMo 2007? And reached the end of the book too? Sorry. I did this. I even posted the last few paragraphs as an excerpt at my NaNoWriMo profile. Posting that is sort of a way of saying it out loud: I did it, I got to the end, and I'm not going to delete it all in a fit of insecurity, or whatever. And of course once November ends, you can't change what you put up there, so posting an excerpt is kind of like making a declaration you can't take back.
Things are fairly quiet on the writing front since. I'm easing back into it slowly. I have another couple freelance work-for-hire projects ahead of me, a short-short I want to have ready to submit by the new year (the one about the sidewalks melting) which shouldn't take me that long really but we can't get too crazy y'know. Also another short story (the one about the plant virus) that's long overdue its overhaul.
I'm also just back from an excellent fun trip to Boston, and soon to go on a trip to Seattle. John's using up those vacation hours that would otherwise go poof at the end of the year, and airfare has been unaccountably reasonable, so we've been Visiting.
That's all the update I can usefully think to make at present. More later, hopefully not too much later.