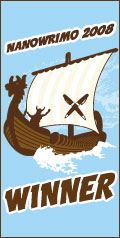 Congratulations! You Win A Day Off! (Just one, though.)
50,202 words (if poetry, lines) long
So, yes, as of about 9:30 PM last night I completed the eking out of my 7th NaNoWriMo win. (7th? Good Gods--quickly assembles mental list of NaNoWriMo novel drafts of yore--Yes, that's right, I've done this every year since 2002!) "Eking out" because, once yWriter told me I had more than 50K words, I used its handy "Export obfuscated NaNoWriMo text" command, opened the resulting text file, Selected All (CTRL-A), Copied (CTRL-C), and Pasted (CTRL-V) this into the NaNoWriMo Word Count Validator, and was rewarded with a word count downsizing to about 49380. I think it's the usual deal where the em-dash formation I'm in the habit of using (word!--'nother word!) causes two words to count as one in more conservative word count algorithms. Whatever. So I went back to the scene I was working on, did another few paragraphs, tried again, and so forth until the word count you see here. And the purple "Winner!" bar and the proud happy Viking Longship image and the web page icons and all that.
So I took today off. Well, not off off; I had to tackle the household finances, which had sort of languished for a month and a half. Dug out all the bills from the pile of Stuff To Be Dealt With, some of them past due; paid them; pulled up the checking and saving accounts online and made sure my balances matched theirs; y'know. The stuff you ignore when you're frantically trying to meet a deadline. I got that done. But otherwise, today was a play day. I went to the gym and rocked out in the bouldering cave, and I went to IHOP with friends and played Puzzle Pirates until I was completing carpentry puzzles in my brain on the bike ride home.
Tomorrow, however, I write again. For one thing, the novel still isn't really done. I haven't really gotten my characters from point A to point B, where point A is "at each other's throats" and B is "angrily declaring love for each other". I still haven't entirely disentangled my idea of how the bad guy functions and how the main character plans to fight him/her/it, although I do understand how the main character actually ends up defeating it. And, as usual, I haven't figured out a useful denouement. A novel-length story will often exist in my head with a total Hannah-Barbera laugh-track ending ("Quick, someone say something goofy so we can all laugh and go home!") for months before I finally figure out how to tie the bow on that package.
Also, there are other stories than the Demonic Sweater Story that could be finished and sent out to meet the nice people.
So. Today was playtime. Tomorrow is back-to-work time. To be precise, tomorrow at 11:30 when some NaNoWriMo buddies and I will meet up for coffee and writing time. Just because the calendar's ticked over from November to December doesn't mean the write-ins have to stop.