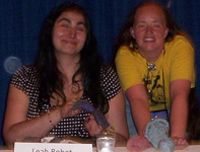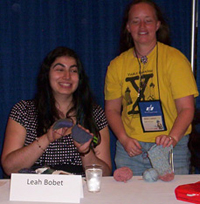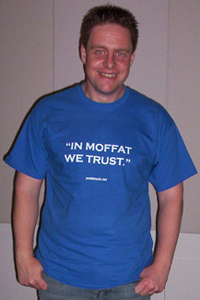 WorldCon 2009, Friday: Squee And More Squee
494 words (if poetry, lines) long
I'm in Montreal today, and will be until Tuesday morning. Montreal is where WorldCon is this year. It is full of lovely architecture, found art, great food, and cab drivers that speak only French. This weekend it is also full of science fiction, fantasy, and horror fans enjoying the heck out of each other's company.
Today I took some pictures. That's kinda news. I carry a camera with me but I'm sort of missing the shutterbug instinct, so the machine stays useless in the bookbag most of the time. It stayed there during this morning's "Stroll With The Stars" (a morning walk about town in company with several Industry Names, sort of a moving kaffeeklatsch without the sign-up sheet). That was silly. But I took it out for a couple of things today.
First, there's Leah Bobet doing her half-hour of autograph duty. Leah writes fiction, critiques manuscripts at this year's writing workshops, and edits the online speculative fiction magazine Ideomancer. Which is where I submitted "Sidewalks" at the end of June. Leah's response to this was not a rejection letter, but a rewrite request back on July 20th. This is a first for me, for a fiction submission. And it blows my mind. I always thought short fiction, especially short-short fiction, pretty much got accepted or rejected as is; how could a 500-word story be worth the time an editor takes going back and forth with the writer over revisions? Short fiction magazines are on tight budgets as it is! And yet here we are.
Rewriting "Sidewalks," as I've said here before, scares the crap out of me. Such a short story is like a tightrope walk; it balances on such a fragile line between the twin pitfalls of overwriting and underwriting. And I've already taken some falls on the overwriting side, making me really nervous when I'm asked to make something clearer or more explicit. When the response to my first rewrite came back asking for a second, I swear my mental reaction was "O Gods, what now? Don't make me do this! I'll break it for sure!" But then I printed out Leah's email, poured myself a shot of Glenmorangie and a bathtub of piping hot water, and contemplated the task in as relaxed a manner as my high-strung little self could manage.
I'm extremely glad for this process, and not just because it's not a rejection letter. Without the rewrite request, I might have been content with the story as it was. Sometimes it takes another reader to point out that the story isn't all it could be, and what it could be is worth striving for. Now, even if everything falls through and this process doesn't end in publication, I will still have a vastly improved story. That's pure gold.
I sent off the second rewrite shortly before WorldCon. I'd refrained from blogging about it while the process was still ongoing, up to now, but it's become too hard to resist. I mean, I've got pictures of Leah and me proudly displaying our knitting at WorldCon! (Leah is knitting her first pair of socks. They have a lovely ribbing that's a sort of barberpole lace. It's a pattern from Ravelry whose name I forget.) So not only am I all a-squee over having a fiction editor take this kind of interest in my story, but on top of that I got to geek out about knitting with said editor! How cool is that?
The third picture is Paul Cornell. Paul won a Hugo last year for a two-part Doctor Who episode that he wrote. It was based on a tie-in novel from several Doctors ago which he also wrote. And some readers may have noticed that a chapter in that novel bears a title ripped straight from a Kate Bush lyric. This sort of thing rarely turns out to be coincidence. Paul is a huge Kate Bush fan, and today I got to hear him give a presentation on her music as great fantasy writing. Do you know how seriously cool it is to hear someone whose work you admire totally geek out--in an educated, serious, literature-analysis way--about someone else whose work you admire? It's way cool. In fact, Paul has the coolest theory I have ever heard about the plot of The Ninth Wave (essentially Side 2 of Hounds of Love). (It involves alien abduction.)
This is what makes WorldCon the beautiful wonderful miraculous magical event that it is. Finding out who your heroes consider their heroes. Hearing them enthuse hard in full fan mode about their heroes. Also, finding out that you have more in common with those in the industry than just the industry itself. And I haven't even gotten into the other panels I attended today, or the great conversations at the Making Light party, or or or or or...
It's 3:30 AM. I should wrap this up and go to sleep. Good night!