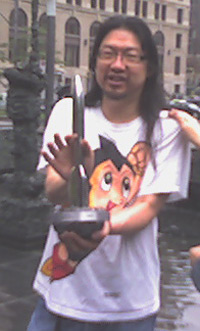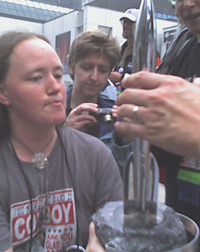 WorldCon 2009, Monday: In Which I Lay Hands Upon A Hugo
The aforementioned irrepressible Frank Wu took his Hugo for a walk today. He was one of the scheduled Stars for the final installation of Strolling With The Stars, and he arrived in the mist and rain with rocket ship in tow. And he says to fellow Strolling Star, Stephen Segal (Best Semiprozine, Weird Tales), "Why didn't you bring yours?"
We paused for the daily group photo, and Frank let everyone who wanted a closer look get a closer look. It's worth a closer look--it's an object of great beauty. The rocket ship is just taking off from an asteroid, and if you look close you can see the launch flames are in fact a collection of iridescent maple leaves. I got a very close look. I got to hold it. And what they say about this year's Hugo is true: It's frickin' heavy! It's a frickin' rock!
(Many thanks to Peter Flynn, who came all the way from Ireland, for taking pictures with his cell phone and emailing them to me. If you want to see more pictures, all the group shots will be posted sometime soon on the Anticipation '09 Facebook or LJ or somewhere. 'Twas Stu Segal who took them.)
Now, to sleep, to wake early tomorrow and toss my stuff into its respective containers and boogie down to the train station for a 9:30 AM departure. I missed the dead dog party tonight due to spending lots of lovely time with fellow Viable Paradise X alumni Barbara and Evelyn, but I will be attending the "carrying away the dead dog's corpse" party (as I continue to find it amusing to call it) in the cafe car on Amtrak's "Adirondack" on which several of us Making Light regulars will be riding together.