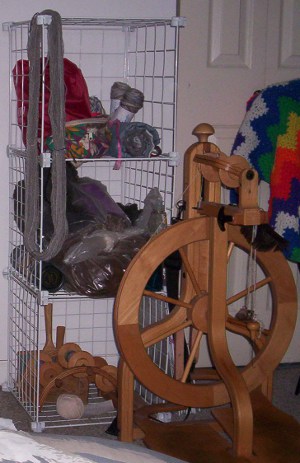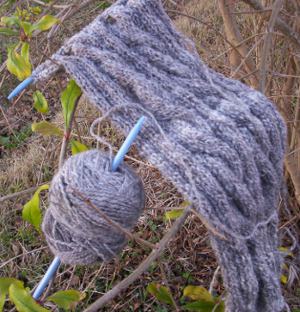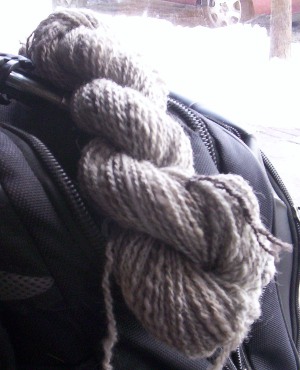 The Meditation Wheel
994 words (if poetry, lines) long
Today's the day. Today's the day I get a full draft of the new story complete. Today's also the day I come up with a good title for it--"The Monster at the End of the Book" is cute, the way it nods comfortably at Grover in the Sesame Street Golden Books story of the same name, but it's not at all right for this story.
Yesterday was the day I think I figured it out. Also the day I remembered how my spinning wheel makes a great platform for Meditation For Inspiration. Remember that? I hadn't.
But I remembered I had to finish spinning my portion of the group project fleece if I wanted to have a project to show off to the group tonight. Last year, the spinners who meet monthly at Shuttles Spindles Skeins decided to do a group project. So a representative went to the Estes Park Wool Market and bought three fleeces, and at the next monthly spin-in we all paid her back for our pounds, or half pounds, of the fleece. The idea was for each of us to bring finished projects to the January spin-in and Rock Day potluck. As most people weren't finished, we get another chance at tonight's spin-in.
So yesterday I hauled the spinning wheel over beside my desk and spun the last of the singles. And, because I had the poem tacked up over my desk, I meditated on a different stanza for every rolag I spun. (Rolag: a roll of hand-carded fiber. A possible unit work in spinning.)
Read next stanza. Begin to spin. Repeat the stanza out loud. Think about its possible connections to the story, letting "blackbird" equal "demon." Think about more connections, letting "blackbird" equal "Muse." Think about the theme of the stanza and mentally sketch out a scene demonstrating it in the story.
Then, for no better reason than opportunity, recite the whole poem up to that stanza. I mean, why not memorize poetry?
I had exactly enough wool left to get through stanza 12. (I'd already memorized Stanza 13 because it so very perfectly described the weather we'd been having lately. "It was evening all afternoon. / It was snowing, / And it was going to snow.") And I had exactly enough time left in the day that the newly spun singles could sit awhile before plying in the evening and washing the wool.
And now I know what I'm doing. Excellent. Presenting the Schacht Matchless as a Literary Composting Accelerator!
And now I've got to do it.
Hopefully I can blog again tonight or tomorrow morning, happily announcing a new first draft and a newly cast-off and sewn-up hooded scarf. Completing projects: good for the ego! I recommend it!