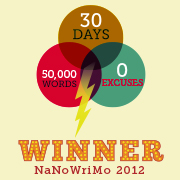 Annnnnd That's a Draft
53,489 words (if poetry, lines) long
It's not so much a revised novel as it is a brand new first draft written from a revised outline. It's got a lot of plot holes, its characters need more development, and there are places when I couldn't figure out how to get from A to B so I just jumped over to B and started writing anyway. But as a novel draft it wanders less than the first one. And, unlike the first one, which kind of dribbled off into December, it's got an honest to goodness ending. It's not the right ending, but it's an ending. It's got a denouement and everything.
Two small excerpts are up on my NaNoWriMo.org profile. For posterity, yo.
About the freelance gig we will talk later. Tonight I do not want to spoil my happy with thoughts of the miles to go before Friday the 7th is allowed to get here. Tonight I'm just happy that, this November - or, for that matter, at all - I wrote an entire novel draft from beginning to end.