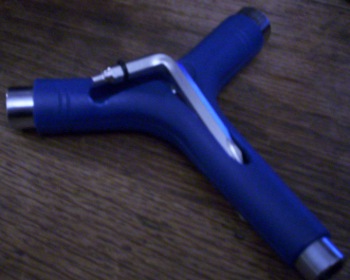 I Distract You With Roller Derby
Today was much, much better than yesterday. For one thing, it started earlier. It still started with a headache, but apparently the thing to do about that is get up and make myself a strong cup of tea. Whose idea was it to have caffeine withdrawal headaches begin before a body's even awake? I'm not sure that's entirely fair.
Unfortunately, today was et up with chores. Including an epic trip to McGuckin Hardware for just about everything I've been putting off buying. Gardening things, derby things, kitchen things, plumbing things. McGuckin has all of the things. Also people who can tell you where all of the things are in terms of aisle number and or street name (McGuckin has streets, it's like a miniature Boulder) and shelf height.
Me: "So, this is my skate tool. And this bit here that comes out, this is the specific tool for popping bearings out of skate wheels. And this is the O-ring that's coming to shreds."
Helpful Dude in Green Apron: [opens a drawer with many many O-rings] "Looks like it's either going to be this one, or that one."
Me: "Can I try them out?" [attempts to install the larger of the two O-rings on the bearing tool] "Perfect. I'll take two."
It's that kind of a store. But it took me an hour there to fulfill my list, and then another half hour or so at the grocery store. And then there were other chores... So not so much a writing day as an attempting-to-catch-up-with-housework day. But I did a little writing, at least, just enough to discover that despite a good soak, my pen nib still clogs solid after about a page. Maybe I'll give it an overnight soak and see if that helps more.
But speaking of roller derby: Would you like to watch some? Would you like to actually see me, in particular, skate? (Also other people who are a lot better at this than me, incidentally.) This past Sunday, my team, the Boulder County Bombers "Bombshells", along with some of our "Shrap Nellies" skaters, competed in a 20-minute "teaser" scrimmage as kind of an opening act for the headliner bout between Detour Derby and South Side Derby Dames. Both the teaser and the main bout were filmed, and the film was archived at Justin.tv. Oddly, it looks like user DetourDerby uploaded each file twice - once on the day of the bout, and once the next day. I'm guessing the first versions of everything were what streamed live and the next-day postings were maybe a trimmed and tidied up version of that. Here's all the links so you can watch what you like:
Unfortunately, the layout of the Wagon Wheel and the placement of the camera means that although you get a damn fine view of turn 4, turn 1 and 3 are pretty much everyone's backsides and everyone's fronts respectively, and turn 2 is invisible behind one of those big tree-trunk posts in the infield. But I ain't complaining - that there was live filming of the bout, and that the film was archived so you could view it later, is fantastic.
(I'm going to complain a little bit about the announcer, though. Just a little bit. Since he didn't seek out our team before the bout and ask people how they pronounce their skate names, he made some howling boo-boos on introductions. Lacy Vasive is pronounced like "Lace Evasive"; if it sounds like "vaseline" you're doing it wrong. THE SAME WAY YOU DID IT WRONG LAST YEAR, sheesh! And Jaynesrous Jukes isn't as hard as it looks; just think "dangerous" with a "j". Other than that he did a mostly OK job, although he did seem to slip back into last year's rules a few times. Since the new ruleset was implemented at the beginning of this year, there is no first whistle to release the pack and a second whistle to release the jammers. There is no "creating a no-pack situation to release the jammers immediately" anymore. There is only one whistle, and everyone starts skating at once.)
Since you know me, you're probably looking for the bits I skate in. That would be the teaser bout and only the teaser bout -- and 20 minutes is way too short! The jam I had to sit out because the gal playing the same position as me in the previous line-up was sitting in the penalty box? Painful! WE CAME TO PLAY, DAMMIT, AND WE WILL PLAY!
But but but lemme tell you, the main bout? Was hella exciting! It was close. The score lead kept switching between the two teams, and upon beginning the final jam, the two teams were one point apart. That's somewhat rare in derby. There was screaming and cheering and really awesome skaters being awesome and lots of hugs afterwards. So if you watch any of it, you should watch it all. That's basically what I'm saying here.
This weekend will be an all-derby all-day thing, since BCB's "All Stars" are competing in the Colorado Cup. You can watch that too -- it'll be streamed live here. Or if you're local you can head down to the 1st Bank Center, buy your tickets, and come watch it all unfold right in front of you. That, in my opinion, is the best way to watch roller derby. Here are the "more info" pages from the 1st Bank Center's calendar:
I'll be there Saturday the 27th, hanging out at the Boulder County Bombers merchandise table wearing my black BCB jersey and my (metaphorical) recruiting committee hat. I'll be handing out fliers for our upcoming recruitment events and answering all questions asked about being a Boulder County Bomber. If you're going to be there, you should come say hi.