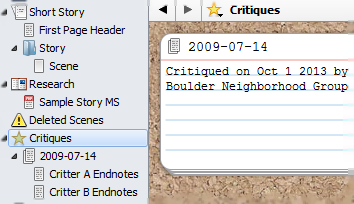 assembly lines in no particular hurry
With recent deadlines behind me and unstructured fiction time ahead, I'm working on "The Impact of Snowflakes." This is another story that has been through the critique mill several times; most recently it received the attentions of my current neighborhood group.
I'm developing a process for this. It's a gradual process, an unhurried process, a process involving itty-bitty bites at a time, a process above all involving very little pressure upon myself. Revision is not a task I approach gleefully. Any strategy I can use to Not Scare Myself Off is a good strategy.
Anyway, it's how "It's For You" got revised and ready to submit, so I'm doing it again. It goes like this:
First, the scribbled-upon hard copies get three-hole-punched and popped into a three-ring-binder. Yesterday I made this process More Fun by acquiring color tab dividers (to separate story from story) along with sticky tabs in fun quilt-print patterns (to separate copy from copy).
Next, the story finds a home in a new Scrivener project using the short story template. An RTF copy of the story gets pulled in under the "Critiques" folder.
Then, I annotate this critiqued draft by entering each critic's feedback as linked comments. Linked comments can be created in any color; I assign one color to each critic. If the critic left me any general comments, I'll type that into a new file that lives folder-wise inside the critiqued draft.
(Here is where I complain a little about Scrivener for Windows. The manual claims that Scrivener remembers which color you used last in a linked comment, such that it will automatically create the next linked comment in that color. LIES. Every single one comes up in default yellow. So it's Highlight text, hit Shift-F4, hope like heck I didn't hit CTRL-F4 instead, type in the comment, right-click on the comment, select "Purple"... and repeat.)
Lastly, I begin typing in the new draft. I use a horizontal split-screen layout so I can reference the critiqued copy and its comments below the split while I type in the new draft above. The new draft, of course, goes in the "Draft" folder, either as one file or many depending on whether I work the scenes out of order.
Right now, I'm in the annotation stage. I'm giving myself permission to go through a single critiqued copy per day. This means that the work goes very slowly. But it also means a certain amount of composting--that background-level "thinking about things" process--happens too. Each person's feedback gets a day and a night of subconscious chewing-over. Hopefully that means that by the time I begin working on the new draft, possible solutions to the problems raised in the workshop are beginning to bubble into consciousness.
And oh boy are there problems in this story. The main thing I'm wibbling about is the isolation of the main character. I mean, yes, you get somewhat isolated when you live alone and the Snowpocalypse is shutting down the world little by little, but there's phones and internet and TV and stuff, and emergency personnel with their vehicles with their flashing lights and sirens. This is not an intimate two-person story like "It's For You." This is a worldwide crisis story. Which means I have to populate the world in which it occurs.
*wibble*
When wibbling, it's so very helpful to focus in on small, bite-sized tasks. Nibble-sized tasks. Tomorrow, I don't have to worry about populating the whole world. All I have to do is annotate the critiqued draft with the feedback scribbled on the next copy in my binder. I cannot begin to tell you what a relief that is.
In other news, Lightspeed has already declined "Other Theories of Relativity" for their Women Destroy Science Fiction issue. Which means that story is free to go knock on another editor's door. And because it's always easier to knock on a stranger's door if you've got a buddy, I sent along "The Day the Sidewalks Melted," who's seeking a first reprint home, to keep it company.
The two stories are oddly similar. I'm trying to consider this a plus. It's not "oh, dear, not one but two stories about broken relationships and loss and disaster written in a sort of Second Person of Direct Address point of view, hasn't this author any other tricks?" No. It's "My, what a lovely diptych of microfiction this is." Yes. That's exactly what it is.