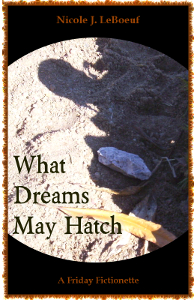 in which we cast silhouettes on the sand
5,975 words (if poetry, lines) long
3,380 words (if poetry, lines) long
744 words (if poetry, lines) long
This week's Friday Fictionette went up on Patreon, with public excerpts there and here and on Wattpad, round about five this afternoon. I'm not only very pleased with the story, but I'm tickled about the cover art. I wanted to set up a silhouette of Humpty Dumpty on his wall, looking out over the desert. So I went down to the volleyball pit at the top of Center Green Drive, built a little wall out of railroad track ballast, and made a miniature Humpty Dumpty with my darning egg and a couple of pipe cleaners. I got to go play at sandcastles, more or less.
Despite that, I'm not sure in the end that it's obvious to someone who hasn't read the story yet that this is Humpty Dumpty sitting on his wall. I'm proud of it nonetheless.
I have discovered this week that it is all but impossible to give all three of the most time-consuming things in my current daily life sufficient time. One of them tends to have to give. Writing, roller derby, and our home improvement checklist: they are fighting for the crown, and they cannot all have it. This week, a surprisingly full derby schedule and a bedroom that needed painting has resulted in The One With The Feathers still sitting around at more than twice its target word count. I expect some weekend work is going to happen.
It will have to, because it's got to get submitted by Tuesday. Then "Caroline's Wake" is getting revised just as soon as possible, as per editorial request. Editorial request! Such a happy dance is being done by me. It is not an offer to publish, understand; it's, at best, an acknowledgment of the possibility that a revised version might convince them to publish it. If nothing else, my story received a critique from the senior editor at a highly respected publication, so now I get to take that critique and make it an even better story. That's certainly worth the time and email pixels.