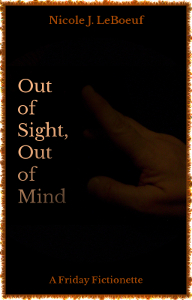 this is the friday fictionette you get when the author fails to take notes
783 words (if poetry, lines) long
Off to a late start today, being all virtuous and getting the household and admin-type chores done on time for once, but--the Friday Fictionette is up at last on Patreon as of, oh, 9:30 PM or so. All the tantalizing excerpts and extranea here on my blog, over on Wattpad, and in my Patreon activity stream (excerpt here and cover art notes here) didn't quite make it up until 11:00.
(Wowzers, holy link-fest, Batman!)
As I may have mentioned, each week's fictionette is pulled from one of my timed freewriting sessions the month before. And it can't be just any session I haven't already selected yet. It's gotta be one of those from the corresponding week. This is one of the picky little rules I impose on myself to keep myself honest and the fictionettes fresh. So the Friday Fictionette for October Week 2 had to be some freewriting output from September Week 2. And sometimes when it's time to make that choice, I look at what I've got to work with and I despair. "Is this it? Seriously? It has to be one of these? But they're all awful!"
That wasn't quite the case with "Out of Sight, Out of Mind." I was actually kind of excited about it when I wrote it. The half-dream, or maybe hypnagogic hallucination, that it stemmed from made a strong impression on me, and the slow vanishing that the second-person narration describes is pleasantly creepy. I was looking forward to polishing it up and giving it a real ending!
Then I polished it up this week, and I ran smack into the other limitation I hold myself to: Once I'd chosen the vignette that was going to be released as a Friday Fictionette on October 10, that was it. That's what it was going to be. No take-backsies, not even if the revision frankly horrified me. Seriously, I got to what is now the ending, and I thought, "That's... not OK. That needs a content warning or twenty, and also a unicorn chaser. That's just bleak."
Somewhere in the ether there is a third ending, which, much like the original "invisible man at the party" image, came to me as I was falling asleep. It came to me very late on Wednesday night after trying to wrangle the fictionette into shape while I was too tired to think. And it was perfect. It was the perfect ending, with shades of "the biter bit" and satisfying parallel structure and it was perfect. And I did not write it down at the time, so when I woke up in the morning it was gone-baby-gone. But it's out there, somewhere. I hope it finds a nice home in someone else's brain; I fear it's too late for it to come home to mine.