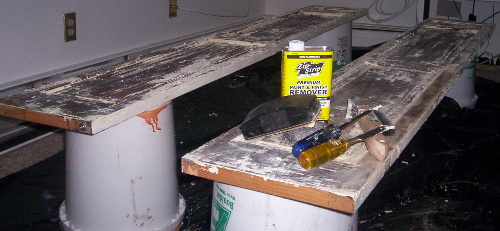 haunted houses, for temporary use in
5,300 words (if poetry, lines) long
So this is my life right now. There is an area of the living room that's been taken over by painting, staining, and finishing projects for about a month now, and that ain't going to stop for a little while to come. I do not entirely regret this! This is where we stained and finished our brand new bedroom closet sliding doors and our brand new bedroom-to-shower-access bi-fold door. Those are happy results.
But now it's time to do the living room closet bi-folds.
There are four bi-folds in the living room. They started out as two-footers, but whoever installed them had to plane each panel down about half an inch in order to make them fit the oddly sized space. I forget what it came out to be. Ninety-three inches maybe? It was not the full eight feet. Anyway, this is why "Just buy new plain pine bi-folds and stain them" isn't the solution. Also, a new plain pine bi-fold is something like $80. And while time is money, we'd still have to stain them and finish them. So, no.
Instead, we're stripping the "curdled cream" paint off of them. And sanding through the layer of stain that's waiting under the paint. And, theoretically, staining and finishing them with the same color we used for our bedroom closet doors and shower room access door.
Paint stripping is a process. I'm not sure I have it down yet. What you see here is the first of the four bi-folds. After two days of work.
Great excuse to go to McGuckin Hardware and get all the things. Like, a whole 'nother gallon of that Zip-Strip stuff. Cheap natural bristle brushes. A proper scraping tool. Professional grade steel wool. Adhesive-backed sandpaper for that 3M sanding block. All! The! Things!
One day we will have lovely refinished closet doors in our living room. One day we will also have our living room back. And I will actually be able to put in a five-hour writing day, and maybe even think about the requested revision on "Caroline's Wake." (I have been assured there is no deadline. But it would be nice to turn it in while the current senior editor, the one who requested the revision, is still there to receive it.) One day we will actually be able to list this condo unit for sale, and move into something more house-like and roomy and well laid out and on the ground floor. One day.
Alas, that day is not today. It's not tomorrow, either.
I'm beginning to wonder if it will even be this year.