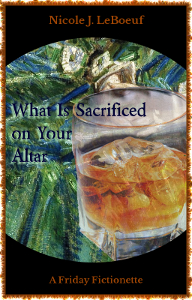 a fictionette walked into a smoke-free bourbon street bar
1,255 words (if poetry, lines) long
Joy! A fictionette for you. In the eleventh hour as usual, but still in an hour that counts as Friday. The excerpt appears here.
Obligatory Sales Pitch: Gain instantaneous access to the full text, and the full text of all Friday Fictionettes published thus far, by becoming a Patron at the low, low price of one whole dollar per month. Fictionettes may be downloaded as attractive, tasteful, and eminently readable PDF files. Higher amounts of patronage are welcomed and encouraged with more extravagant formats, like audio and print compilations, which I promise to create any day now.
OK! With that done, I shall make excuses for my habitual lateness.
You may remember that John and I are in the New Orleans area right now? Right. So. Today was our day to be tourists in the French Quarter. You can tell we were playing the role of tourists by our resigned willingness to pay $35 plus exit traffic stress for little more than five hours of parking. Usually I try to park like a local, finding a spot in the residential parts of the Quarter or off to the side tangential to the Marigny, but today I did not want to think that hard and neither of us felt like walking that far. So we got on North Peters and turned right at the first sign that said PARKING in huge, hard-to-miss letters.
What wonderful things did we do? We ate lunch at Angeli on Decatur, marveling at the existence of a New Orleans restaurant with a meatless pasta marinara on the actual menu. I know there must be oodles of restaurants down here that can do this dish, but we have historically suffered bad luck in finding them. We also tend to fail to stumble upon restaurants that do veggie burgers round these parts, which is why we did a bit of research before deciding on a restaurant for dinner. One of the results of our research was Cowbell on Oak Street. And while the burger itself was not destined to supplant John's current favorite (that would be the one at the Walnut Brewery in Boulder, I think; John may correct me if I'm wrong), the creme brulee he had for dessert made him drunk with delight. Also the scotch he ordered to accompany it may have made him actually drunk, with drunkeness. I only had a few sips of it; I had already enjoyed two cocktails at the smoke-free and wi-fi-enabled Bourbon O where we'd rested and played on our laptops after a couple of hours of sightseeing and shopping.
Speaking of shopping, I may have found a gift for my Secret Skater. (That's what you call a Secret Santa exchange when a roller derby league does it.) I may yet find something I like better before I leave New Orleans. We'll have to see.
Tomorrow the family convenes for Grandmama's funeral and memorial service. I'm actually looking forward to it. It means more time spent with my brother and my cousins, which is always in short supply. As children growing up in the same metro area, we were always in each others' faces and driving each other batty; as adults who've more or less scattered across the states, we're friends who don't see nearly enough of each other. If it takes a funeral to bring us together for a few hours, I'll put on a skirt and go.
Afterwards, there may or may not be an outing to the Airline Skate Center. John and I brought our skates on this trip, and if I have anything to say about it we are damned well going to use them. And the late night hours will bring another outing to Hurricane's, this time for what I'm told will be the farewell performance of a cover band that my brother's been telling me I really, really ought to hear.
So it's going to be a full weekend.
Talk to you Monday.