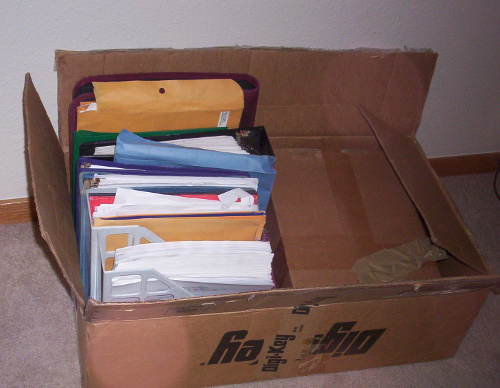 you're gonna carry that weight for a long time
59,193 words (if poetry, lines) long
128.50 hrs. revised
As expected, I haven't been able to write much this week. Any time not spent sleeping or at derby practice, has been spent moving items from our old address to our new. There have been many carloads, and each carload required multiple trips up and down the stairs that I'm so pleased to leave behind. I can almost do those stairs blindfolded by now: Eight steps down, three paces to U-turn on the landing, another eight steps down and another landing worth three paces, one last bunch of eight and three paces forward to finally descend the three steps of the front stoop.
Most of those carloads have been packed solo, either because John did it while I was at derby, or I did it while John was working. A solo carload takes longer, and it takes a higher toll on the person making it happen. I was done today an hour before we had to leave for practice and scrimmage, but it was an hour spent half asleep because I simply had nothing left for anything more productive.
Today was mostly me, and my goal was to completely empty the office closet. Six clear-bin stackable plastic drawers plus a Rubbermaid bin and a couple bags full of crafting supplies, three stackable plastic file cabinets, two big boxes of miscellaneous removable data media (CDs, DVDs, 3.5" floppies), another box full of "all manner of useful cables" according to my Sharpie memo to myself, a great variety of stationery...
...and a surprisingly large amount of my own writing. Early NaNoWriMo novel drafts printed out for revision. Copies of my short stories with critiques scribbled between the lines and in the margins. Spiral notebooks with drafts, writing exercises, and notes toward rewrites. The three chapters of The Drowning Boy that went with me to Viable Paradise in 2006 and came back looking like they had bled from innumerable cuts. (Not that they all bled red. But oh, how they bled.)
There were in that great mass of paper several copies of other people's stories that they chose to share with me or to send by mail as part of a critique exchange. But for the most part, the author whose works were contained in that box was me.
It was almost too heavy for me to lift. But I managed. I got it down the stairs and into the car without breaking either it or me. I felt strangely reassured by both of these things. The weight of that box was a reminder of how prolific I really have been. And yet I am capable of lifting the weight of my own words. There's something symbolic in that.
Still, when I pulled up to our new front door, I was happy to accept John's offer to take one end of that box and help me lift the load. Just because I could do it alone didn't mean I'd always have to.
There's something symbolic about that, too.