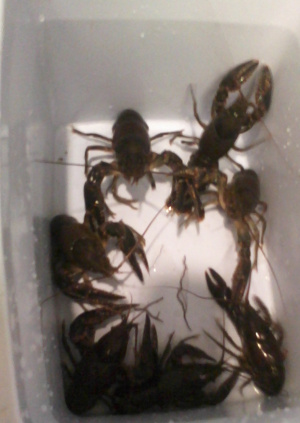 you get a line i'll get a pole because apparently we don't need nets
It's summer and I feel like Calvin of "and Hobbes" fame. "The days are just packed!" Today I was running around barefoot all over my neighborhood, wading in Wonderland Creek, and fishing for crawfish, honest to any God you care to name. I pretty much spent today being twelve years old.
What happened was, Saturday I biked to The Goat at the Garage, which is a cafe about 15 minutes east of me. (It gets its name from sharing a building with Green Eyed Motors.) There I geared up to roller skate the trails with some friends. We skated the Boulder Creek Path across town and across two zip-codes, from the 80301 post office to the downtown farmer's market. It was pretty epic. After all that, of course, I still had to bike, and I had to get groceries. So I wound up biking home along 30th Street and the Wonderland Creek Path with my baskets full to bursting with milk, potato chips, bread, soda, and assorted stinky-sweaty skate gear.
It was during the final part of this ride that I ran into the group of guys crawfishing in Wonderland Creek. They were leaning over the railing at the little flat bridge, dangling what looked like very long shoelaces into the water. I trundled to a stop and wobbled around a U-turn with my overladen bike and came in close to investigate. They proudly showed me an assortment of plastic containers containing crawfish sorted by size. The largest probably came up to around six inches in length. All in all they had about 30.
"Do you lower one of those bins in on a line with bait inside, and then haul up the bin once they crawl in?"
"No," the nearest guy said, with an almost embarrassed expression, "it's just some turkey knotted into the end of the line. They hold onto it while we pull it up."
The simplicity of it! Also the familiarity--I remembered a fishing trip one summer when we caught not a single fish on the line, but kept finding small blue crabs clinging defiantly to the bait. "What are you going to do with them?"
Another shrug. "Throw 'em back."
I was thinking, Throw them back? What a waste! You've got enough for crawfish monica at least for two, right? But I just nodded and wished them luck. The rest of my ride home, though, I was also thinking, Why didn't I think of that?
So today was Monday, and Mondays are often how I steal back a weekend day that roller derby stole from me in the first place. (Yesterday wasn't a team practice day like usual, but only because it was the league's first annual carnival fund-raiser. I made cotton candy and snow-cones all day. Meanwhile, John ran around playing all the games and eating cotton candy and snow-cones. Yesterday was John's day to be twelve years old.) So having an unscheduled weekend day on my hands, I experimented.
Experiment #1 involved finding a good place to drop my line. I didn't want to hang around on the bridge where everyone passing by would wonder what I was up to. That works fine if you're with your best buds and you have great results to show-off, but I was all alone and I didn't know what I was doing. So I made my way downstream a bit. I figured I was looking for somewhere with shadowy pockets where a crawfish might hide, and lots of little minnows that a crawfish might hunt. Places just downstream of small "waterfalls" seemed to be most likely. A place where I actually saw a crawfish hanging out in the shallows seemed ideal.
Experiment #2 was about setting up my line. I brought some pieces of raw bacon and a ball of twine. After some initial false starts having to do with dropping my ball of twine in the creek and having to jump in after it (the creek's not even knee-deep, but jumping in disturbs all the critters) and indeed dropping my miniature ice-chest in and thus freeing my first catch of the day, I settled into a routine that seemed to work.
Tie bacon to end of twine.
Tie a rock just above that, to pull the bacon down to the creek bottom.
Tie this to a longish stick, to allow greater flexibility in dropping the line.
Prop the stick on the bank and shorten the twine so that the twine is taut.
Repeat with additional bait-twine-rock-sticks.
Relax with a book and/or some tatting and wait for one of your lines to twitch.
Carefully pull up line, hoping crawfish doesn't let go until it's over the bank.
Pick up crawfish and toss it into the ice chest.
Repeat from step 4.
If you don't mind spending a little while at it, you can catch a good handful that way. I got seven over the course of an hour or so--sometimes two at a time. (These are featured in the crappy cell phone photography above.) Probably would have got more over the same period had I dropped my lines by the bridge, but, again, I wanted a more secluded spot.
Experiment #3 was to eliminate the part where sometimes the crawfish gets wise to you and lets go before you get him onto the bank. We have this three-tiered hanging wire mesh basket that we used for storing and showing off tea at the old house. At the new place, we never found a place to hang it up, nor a use for it since all our tea fits in kitchen drawers now, so it's been on a shelf in the laundry room all this time. I thought about it today when I considered what might work as a sort of net.
It worked pretty well. I used a twist-tie to secure some bacon to the center of the top basket, then attached some twine to the hanging chain and hook. I let it sink to the bottom of my most productive fishing hole, where it settled flat. I tied the twine to a handy root on the bank, then I settled down to pass the time with Cherie Priest's Boneshaker and a tatting motif I wanted to finish. Periodically I'd get up and take a look: the basket, painted white, shone clearly up through the shadowy two-foot-deep water. It was easy to see when a crawfish had crawled onto it. I pulled on the line, the basket expanded into three dimensions as it rose off the creek floor, and the crawfish stayed in the basket. (Seriously, that sucker clung to the basket. It took a fight to get it to let go of the wire.)
I now have ten of 'em in the fridge and mean to try one more quick trip tomorrow morning. The plan is to then make a very simplified version of this crawfish bisque recipe.
In the near future, there may be an Experiment #4, involving a DIY crawfish trap made from two 2-liter bottles. That may, however, be too much work for a temporary 12-year-old like myself.