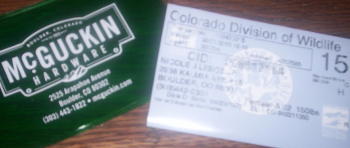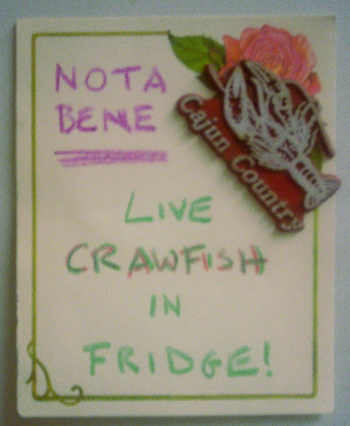 freedom from ac outlet tyranny means taking the laptop fishing NOT SWIMMING
I got the email stating that my new laptop battery has shipped! It's hanging out in Anaheim CA as we speak. I can only imagine it'll be in my hands by the time the week is out. I'll have 5400 brand new milliamp hours to play with! And I promise to use nothing but good battery longevity practices with this one. At least for the first couple weeks.
And I'll really be able to take my writing out to the crawfish hole.
I know, I know. You're probably getting sick of the near-daily crawfish report. But I'm terribly enthusiastic, so you're getting a crawfish report. Also, today was Monday. Mondays don't mean no writing, but they mean a lot less writing, less enough to allow ample time to play with the mudbugs.
I bought a fishing license this weekend.
My crawfishing expeditions are now totally legit, for I have visited McGuckin Hardware and bought a license. (Actually, I parked at Hazel's Beverage World, walked to McGuckin, bought the license, then walked back and bought beer. Because fishing and beer go together in the LeBoeuf family, even if Colorado alcohol laws won't let me actually bring my beer out to the crawfish hole.) I have paid my small share toward the Colorado Division of Wildlife's efforts to keep our waterways clear and clean and well-researched. Also, I see from the itemized receipt that I've also put my quarter toward Search & Rescue operations, and my seventy-five cents toward the Wildlife Education Fund.
Was this necessary? Why yes, it was necessary.
ADULTS — People 16 and older are required to buy and carry with them a fishing license to fish or take fish, amphibians and crustaceans, except as prohibited.
Sure, I could probably have got along without one--it's unlikely anyone was going to come check up on my activities and accuse me of poaching. But it's a darn good deal for $36. In addition to the doing-my-bit warm fuzzy and the "Yay I'm legal!" peace of mind, it's like a season-long all-you-can-eat ticket. (CDW imposes no statewide limits on crawfish. Or on bullfrogs. You totally needed to know that.) Generally that monetary amount would just about not quite cover a single afternoon of all-you-can-eat crawfish at Nono's Cafe. Not that I can spice them as perfectly or provide and prepare them in the same quantities as Nono's Cafe, mind you, nor even catch them myself during most of that restaurant's crawfish boil season (Colorado waters warm up a few months later than Louisiana waters, surprising exactly no one). But still.
I've started experimenting with home-built crawfish traps.
I'm working on a series of photos documenting the project, which will accompany a longish blog post going into even more detail that you probably didn't want. For now, here's the short story: I started with these instructions, made some materials substitutions, and improvised in a trial-and-error sort of way from there on out. So far, results are mixed. The trap doesn't come up exactly stuffed, but the one or two mudbugs in there tend to be huge. Huge, like, "If I don't catch any more today I am still bringing this one home and cooking it all by itself and serving it with drawn butter because this, my friends, is a lobster."
So I've got 24 live crawfish in the plastic bin in the fridge tonight, all but one of which were caught in the last hour I was out. (The previous few hours were spent trying out different promising-looking areas downstream, but discovering that they just weren't sufficiently populated to be worth the time spent there. Once I returned to my usual haunts, things got busy. I was even throwing some back for being too smal.) To that double-dozen will be added whatever shows up tomorrow during the morning writing shift (or that part of it which my laptop holds out for), and lunch will be delicious.