What Dreams May Hatch
744 words long
To fall--perhaps to crack; ay, there's the rub / for from that crackÚd shell, what dreams may hatch?
everyone gets something to read today (that means you)
September's "Fictionette Freebie" is out and available to the public, Patron and non-Patron alike. It's "What Dreams May Hatch," which you may download as a lovely PDF from Patreon, read in one of Wattpad's versatile formats, or simply click to read it here on the actually writing blog.
September 30 also means it's deadline day for the call for submissions to An Alphabet of Embers. How did I do in that whole "improving my relationship with deadlines" thing? Well... I wasn't up until 2 AM, how's that?
*Sigh*
I woke up this morning feeling like I'd already lost. Like, I drafted it with two weeks to go, right, but then I didn't touch it all last week and I didn't touch it over the weekend and I didn't get to it yesterday either which meant... yup, once again I'm pulling the bulk of the work during the last 24 hours of the reading period. Defeat.
Except, here's the thing: I did draft it two weeks before deadline. And I didn't end up submitting it in the wee hours. So, y'know, improvement. I think I'm entitled to feel at least a little happy about that.
Not to forget: I did, in fact, submit the story. And it went from vague brainstormy concept to submitted story in something like three weeks. Yay, right? Yay. And look! It has a real title now! A title with a terrible pun.
Anyway, it's in. And in rereading the guidelines I saw that 1. they allow two submissions per author, and 2. they appear to be open to reprints. So I sent "Sidewalks" along, because why not? I may not be personally 100% sure it's right for Embers, but that's properly the editor's decision, not mine. So off it goes.
Today has been a mix of happy and hopeful news. Tomorrow will feature more of that stuff. Stay tuned.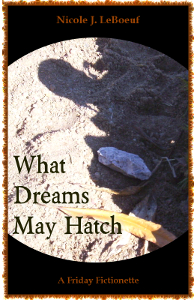 in which we cast silhouettes on the sand
This week's Friday Fictionette went up on Patreon, with public excerpts there and here and on Wattpad, round about five this afternoon. I'm not only very pleased with the story, but I'm tickled about the cover art. I wanted to set up a silhouette of Humpty Dumpty on his wall, looking out over the desert. So I went down to the volleyball pit at the top of Center Green Drive, built a little wall out of railroad track ballast, and made a miniature Humpty Dumpty with my darning egg and a couple of pipe cleaners. I got to go play at sandcastles, more or less.
Despite that, I'm not sure in the end that it's obvious to someone who hasn't read the story yet that this is Humpty Dumpty sitting on his wall. I'm proud of it nonetheless.
I have discovered this week that it is all but impossible to give all three of the most time-consuming things in my current daily life sufficient time. One of them tends to have to give. Writing, roller derby, and our home improvement checklist: they are fighting for the crown, and they cannot all have it. This week, a surprisingly full derby schedule and a bedroom that needed painting has resulted in The One With The Feathers still sitting around at more than twice its target word count. I expect some weekend work is going to happen.
It will have to, because it's got to get submitted by Tuesday. Then "Caroline's Wake" is getting revised just as soon as possible, as per editorial request. Editorial request! Such a happy dance is being done by me. It is not an offer to publish, understand; it's, at best, an acknowledgment of the possibility that a revised version might convince them to publish it. If nothing else, my story received a critique from the senior editor at a highly respected publication, so now I get to take that critique and make it an even better story. That's certainly worth the time and email pixels.
the secret trap behind the job description of full time writer
It's not a secret because no one tells it, mind you. Everyone tells it, to every writer who ever contemplates quitting their day job. No, it's a secret because it is rarely believed until it is experienced. To put it broadly, it is the secret no one can know until they learn it for themselves. And then, if they're me, they need to relearn it countless times.
Here is that secret: The phrase "I've got plenty of time" is a lie.
It makes sense. It seems obvious. But somehow I keep falling for the lie. I say to myself, "Look at this long beautiful Tuesday stretching out in front of me, with nowhere to be and nothing to do except my own things!" I tell myself, "I'll have a pleasantly lazy working day. Plenty of time to get all my tasks done, even if I take long breaks between them. Plenty of time, even if I sleep late. Plenty of time!"
It's such a seductive lie. How nice it would be, a work day with no urgency to it! Why, it wouldn't even feel like work. It would make the work feel like play. No stress, just playing with words at a leisurely pace all the day long.
But the very lack of urgency has a tendency to result in no work at all.
This is why it's so important for me to make a schedule at the beginning of the day, and affix the scheduled items to scheduled times--or at the very least, work out how long each item will take. "Plenty of time" is in fact a finite amount of time. Remaining aware of that helps put the urgency back into the work day.
Also, I'm not allowed to read books early in the morning anymore. I have a distressing tendency not to put a book down until I've finished reading it, even if it contains real howlers about my hometown.
I did manage to spend a half hour polishing up this week's planned Friday Fictionette release. I'm really rather pleased with it. Tickled, even. When I first approached the writing prompt that it sprang from, I groaned, thinking, "This is twee and embarrassing and likely to be No Fun At All." Then I did it anyway, and, surprise! it was exceedingly fun.
And that's the secret to writing prompts, which, again, no one may know until they learn it for themselves (and they may need to relearn it on occasion): The greater the resistance, the greater the potential. There is fun and interesting stuff on the other side of the "Do I have to?" wall. Go get them.