Out of Sight, Out of Mind
713 words long
Your condition has become impossible to ignore. You wish the same could be said for yourself.
some old fictionettes may be ready for their close-ups
Oh, hooray. Today went much better. Stuck to my routine for the morning, did the various things over a long lunch break, and got back to work in time to have a decent afternoon shift of revising short fiction before it was time to go play. (My flaggies and I on the Cerulean Ocean did a Kraken Hunt. I brought home my very first Kraken Egg! Go me.)
(If you are not familiar with Puzzle Pirates, that probably won't make much sense. Just smile and nod.)
Anyway. Short fiction! I'm getting busy with it. I've become aware recently of a bunch of podcasts newly open to submissions of short-short fiction, and they're cool with reprints.
For instance, there's Toasted Cake, that most elegant and yummy podcast by Tina Connolly. She ran a story or two every week from December 2011 to May 2016 or thereabouts. (One of them was mine, by the by. I have multiple reasons to think fondly of Toasted Cake.) Then, after 150 episodes, she had to stop for a while. But now she's back! She's accepting submissions during this month right here, October 2017, and in the meantime she's running a weekly episode now through the end of the school year.
So I'm working on a batch of three stories to send. For a moment, I thought, "What do I have? What do I possibly have? I don't think I have anything much at all..." Then I thought, Hmm, 650-1000 words. Reprints OK. Doesn't that sound like something I've been doing every week since August 2014?
So it's happening. I knew it would someday. Turns out "someday" is today. I've begun dipping into the Friday Fictionette archives for possible submissions material. The first candidate is "Out of Sight, Out of Mind," the Friday Fictionette for October 10, 2014--and, incidentally, that month's Fictionette Freebie, so if it should end up being podcast or otherwise published in the wide, wide world, you'll be able to compare and contrast the original with the new version even if you're not a Patron.
Because I did spend a good part of this afternoon revising it. Fictionettes aren't rough draft when they go up on Patreon, but they are rough. I think I'm happy with it now. It lost some 50-75 words along the way, and it gained maybe 25 words that were much better for the purpose. I think the result is tighter and more sparkly.
Now to get two more short pieces ready to go. Hopefully I'll be able to get right on that tomorrow.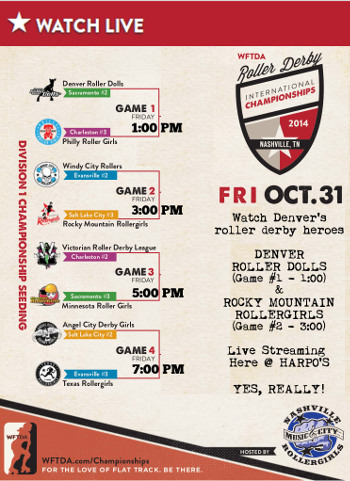 all the ways derby eats workdays all up (your Fictionette Freebie is safe)
Today was the first day of the WFTDA Championships. I spent pretty much the whole day at Harpo's Sports Grill, whose owner, being kind and generous and also intrigued by this "roller derby" thing, agreed to stream today's games over their TVs.
Apparently I don't exactly work while I'm watching derby. Who knew?
About all I managed to do today was release "Out of Sight, Out of Mind" as this month's Fictionette Freebie. Go, enjoy, read. Or, well, maybe "enjoy" isn't the right word, since this one is the creepy quasi-depressing one. But of the four I posted in October, it feels the most complete, the most like a real story. So that's what you get.
I'm going to try to get the October "podcast" out over the weekend. It may be touch-and-go. We have a dear friend in from out of town staying with us, and that will make anything that looks like "work" difficult to get done. Right now we're all hanging out in the living room (where I hurriedly packed away the paint-stripping, door-staining station and cleaned things up) and we probably won't sleep 'til very late. I'm strangely OK with this.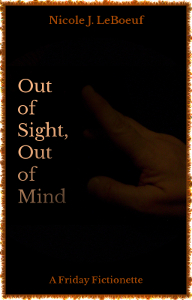 this is the friday fictionette you get when the author fails to take notes
Off to a late start today, being all virtuous and getting the household and admin-type chores done on time for once, but--the Friday Fictionette is up at last on Patreon as of, oh, 9:30 PM or so. All the tantalizing excerpts and extranea here on my blog, over on Wattpad, and in my Patreon activity stream (excerpt here and cover art notes here) didn't quite make it up until 11:00.
(Wowzers, holy link-fest, Batman!)
As I may have mentioned, each week's fictionette is pulled from one of my timed freewriting sessions the month before. And it can't be just any session I haven't already selected yet. It's gotta be one of those from the corresponding week. This is one of the picky little rules I impose on myself to keep myself honest and the fictionettes fresh. So the Friday Fictionette for October Week 2 had to be some freewriting output from September Week 2. And sometimes when it's time to make that choice, I look at what I've got to work with and I despair. "Is this it? Seriously? It has to be one of these? But they're all awful!"
That wasn't quite the case with "Out of Sight, Out of Mind." I was actually kind of excited about it when I wrote it. The half-dream, or maybe hypnagogic hallucination, that it stemmed from made a strong impression on me, and the slow vanishing that the second-person narration describes is pleasantly creepy. I was looking forward to polishing it up and giving it a real ending!
Then I polished it up this week, and I ran smack into the other limitation I hold myself to: Once I'd chosen the vignette that was going to be released as a Friday Fictionette on October 10, that was it. That's what it was going to be. No take-backsies, not even if the revision frankly horrified me. Seriously, I got to what is now the ending, and I thought, "That's... not OK. That needs a content warning or twenty, and also a unicorn chaser. That's just bleak."
Somewhere in the ether there is a third ending, which, much like the original "invisible man at the party" image, came to me as I was falling asleep. It came to me very late on Wednesday night after trying to wrangle the fictionette into shape while I was too tired to think. And it was perfect. It was the perfect ending, with shades of "the biter bit" and satisfying parallel structure and it was perfect. And I did not write it down at the time, so when I woke up in the morning it was gone-baby-gone. But it's out there, somewhere. I hope it finds a nice home in someone else's brain; I fear it's too late for it to come home to mine.