Priesthood Has Its Privileges
100 words long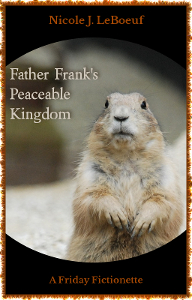 scaling Mt. Overdue while appreciating the scenery
As promised, the Friday Fictionette report. First off, it's a new month, which means not just a new Seal o' Piracy (see previous blog post) but also a new Fictionette Freebie. The freebie for May is "A Week in the Life of a Simple Houseplant" (that's the PDF; download the audio here). I have only just now released it, I'm afraid.
I have also only just now this morning released the Friday Fictionette for the first week of June, "Father Frank's Peaceable Kingdom," which slots in somewhere between the world with Spreading Sentience Syndrome and the world of "Priesthood Has Its Privileges." It's kind of a fairy tale (things must happen three times; Goldilocks must find things Too Big and then Too Small before she encounters Just Right) and it's kind of a satire and, if you read the full text, you might note that it is firmly ignoring the semi-recent changes to the Catholic liturgy. Author's privilege. Nyah.
Fictionette Artifacts for May will be produced and mailed over the first half of this week. Next week. Whatever you call the week that starts with the Monday that's two days from now.
Last week (the week beginning with the Monday that was five days ago) wasn't exactly great for me, I'm afraid. A lot of nothing got done, which means I'm now, and have been for some time, in catch-up mode. But not scrambling catch-up mode, if that makes sense. If I think about it as a week of being not lazy, not hopeless, but rather mildly ill, then it follows that I shouldn't punish myself over having been unproductive or getting things done late. Nor does it make sense to expect myself to get all the overdue things done now now now. Oddly, as a result, I am getting the overdue stuff done about as quickly as when I scramble, but there's a lot less stress and self-loathing involved. Funny how that works.
In other news, or at least other thoughts...
I have just finished rereading the Welcome to Night Vale book, which is gorgeous and funny and gorgeous. If you already like the podcast, you will undoubtedly like the book. I do, and I expected I would, and I did. If you don't care for the podcast, you might still like the book, depending on why you don't like the podcast. The book is not in Cecil's voice nor from Cecil's point of view--Cecil isn't even an active character in the book, just an intermittent voice in the background commenting on the goings-on. He's just a voice on the radio, about which the other characters think, and not always in complimentary terms. So if you're not fond of listening to Cecil on the podcast, you might still like the book.
But if you're really not fond of the sense of the absurd that is the main stand-out feature of the podcast, then you probably won't like the book. If anything, the weirdness is even more front and center, as the narrator of the book isn't constrained, as Cecil is constrained on the podcast, by the fiction of talking to an audience of Night Vale residents who presumably already know about hot milk drawers, the process for pawning an item, or why a cell phone might occasionally cause you to bleed, and thus don't need a radio show host telling them about it.
It's a book about time, and how time is weird. But it's also a book about motherhood, with its anguished uncertainties and its hopeless yearnings and its joys. It's about families, and memories, and growing up. It's about taking responsibility. (All of these are, really, subcategories under the larger heading "Time is weird.") The book quietly blossoms into poetic observations about love and life and loss and the human condition which can just sucker-punch you right in the feels. Like...
Yesterday, she had called the Sheriff's Secret Police and reported her car and her son missing. When asked for a description of the car, she described colors and shapes. This matched the police's understanding of what a missing burgundy Ford hatchback looked like. When asked for a description of Josh, she cried. That matched their understanding of what a missing teenage son looks like.
That was when I had to set the book down and sort of stare at the wall for a few seconds. The wall was unaccountably blurry.
Another thing about the book is, it ends gloriously. Just the most beautiful last two pages, and the most upliftingly gorgeous last line ever.
So. I'm not going to tell you you should read it, but I'm going to quietly sit here and think that you really, really should read it.
hey look a new drabble
I'm not quite sure how it fell off my radar, but November 2 arrived a couple weeks ago and brought with it my latest drabble publication at SpeckLit. It's called "East of Omaha, West of San Francisco," and it's about one person's very small rebellion against the inevitable shrinking of her world. Or about a general tendency to cope with loss via selective amnesia, maybe. It has more than a little to do with Michael Swanwick's "The Edge of the World" (a damn fine story) getting stuck in my brain and taking up permanent residence there.
My second SpeckLit drabble for this quarter, and my last for 2014, will show up right at the end of the year, on December 30. When it goes live, I'll be on a train heading from New Orleans to Chicago as John and I return from a long, leisurely holiday trip to visit my family. I'll try to remember to blog and post a link during our layover.
Meanwhile, SpeckLit is currently in its voting period for Reader's Choice Best of 3rd Quarter 2014. I encourage you to read the eligible stories and vote for your favorites! I have two drabbles that were published during that period, and they are in some outstanding company. The full list of eligible stories is at the linked page, as is the voting form. You should read every single one of 'em (they're only 100 words each, so it won't take long), and then vote for your favorite three. Voting deadline is November 30.
November 30 is also the submission deadline for 1st Quarter 2015, so I've started to tune my freewriting toward drabble production again. Lately I've been using the Daily Dash prompts from the Second Life group Virtual Writers, Inc. It might be more precisely termed a Semidaily Dash, as there are two each day, one at 6 AM and one at 6 PM Pacific Time. As each Dash begins, the group sends a notification to members which includes a single word's dictionary definition as a suggested writing prompt. The prompt for today's afternoon dash was "raindrop," which somehow got me noodling toward a drabble about fallen angels. Because both raindrops and certain angels fall, apparently.
You know, I really see no reason why I couldn't do at least the morning Daily Dash every work day. 7 AM is a perfectly reasonable time for me to be awake and typing. Reasonable, that is, if I stop staying up past one in the morning...
a drabble where you can read it; also, revising away some story problems
I'm pleased to announce that as of today you can read my drabble, "Priesthood Has Its Privileges," on SpeckLit. The other drabble that SpeckLit acquired will appear on the site in September, so stay tuned for that announcement then.
A drabble is a work of fiction that is exactly 100 words long. They are compact and easy to digest, a nutritious part of your daily breakfast. Bookmark SpeckLit to add a new drabble to your diet every other day.
I'm less than pleased to announce that today I was... not as respectful, shall we say, as one should be, of the sharpness of the edge of the scissors blade I was cleaning off. The result is merely a flesh-wound, but there is nothing "merely" about that when it's across your index fingertip and you're trying to type. You ever heard a typo referred to as a "fat finger" incident? Bandaged fingertips are literal fat fingers, hitting two keys where one will do and generally wrecking one's wpms.
Thankfully, this flesh-wound came after a solid session of story revision today. It was solid not only as measured by the formula "butt + chair x time," but also from the standpoint of story problems solved, or at least brought closer to solved. To wit:
1) Raise the stakes. The story has an "OMG shit just got real" moment about halfway through, but I think the draft my friends read suffered from a bit of stall-out after that. The narrator gets home from encountering the "OMG" moment--and almost immediately forgets about it, or at least stops mentioning it, while she listens to some voice mail from her chatty and insufficiently worried friend. So with this revision I'm trying to keep the tension high by correcting both of those oversights. If I've done my job right, I've corrected them both in a single edit to do with what's in the phone message and how the narrator reacts to it.
Wow. That paragraph is a great example of why talking about writing is sometimes not the greatest idea. Trying to discuss a particular edit in generalities rather than specific detail results in hella confusion cum circumlocution. Well, I'm-a leave it up there, let it fend for itself, 'cause I know what I mean, and one day, publishers willing and the markets don't flop, you will too.
2) Everyone's got a story. There is a character in this story more talked about than talking, and it finally occurred to me I have to give him something to do. He's away in a ski resort with the chatty friend, which is to say, they're in what's basically a fancy hotel suite. I visualize it as a kitchen/living room, a bedroom, and a bathroom. That's it. Yet the chatty friend manages to leave our narrator phone messages that this other character in the room is not overhearing. How did I solve that problem in recent drafts? Well, apparently I had him taking a lot of naps. This... is not ideal. He is not meant to be the Amazing Hibernating Man. So with this draft I tried to figure out, well, what does he do while they're in the resort? Especially considering the special role he plays in the development of the plot? And how can I then reveal what he's doing such that it lays groundwork for later revelations?
So now he spends a lot of time sitting on the balcony out in the snow, oblivious to the cold, staring out into the storm. Which doesn't sound like much of an improvement, but in my head there is a reason. I just have to figure out how to make that reason more clear.
This blog post has been brought to you by a somewhat out of date bottle of New-Skin (R) Antiseptic Liquid Bandage. Protects small cuts without all that bandaged fingertip awkwardness! I think I'll go put on a second coat now. And buy a new, not-out-of-date bottle tomorrow.