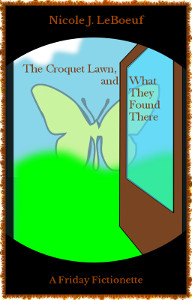 this fictionette is entering a world of longer days and shorter nights
1,268 words (if poetry, lines) long
As hoped for and expected, the Friday Fictionette for December 22, 2017 did not suffer for the two days I took off from writing for Yuletide preparations, observance, and clean-up. It is out and ready for your perusal, should that sound like a good time to you. It's called, "The Croquet Lawn, and What They Found There." Here's your usual bouquet of links: ebook ($1/month patrons), audiobook ($3/month patrons), and teaser excerpt (available to all). It is about portals and why you might not want to go through them. Also entomophobia, nicknames for golden retrievers, and needing to buy a new Christmas tree.
It's the Christmas edition of Friday Fictionettes. Well, sort of. I mean, there's a Christmas tree in it. Only there isn't, but that's the whole point, really. Nothing that should have been in that closet is there, and a whole lot of something that oughtn't to be is. Portal fantasy, y'all.
All the above-mentioned Yuletide preparations went to plan. All the food got cooked, sampled, and declared delicious. I now have a lot of leftover pie, which takes care of the majority of my meals for the next three days. Egg nog got drunk on rum. People got drunk on rum. People came over! Some people stayed until very late at night! It was swell.
I even managed to convince my Pandora station to behave and play me songs like "The Holly King" and "Dark Mother." (Also a bunch of random Celtic tunes, a selection of Arthuriana set to harp and guitar, and a whole lot of Loreena McKennitt. Which near misses beat the heck out of random Pete Seeger. "I hear you like folk music so I brought you some folk music." That's nice, Pandora. Good try.) But I didn't end up listening to it much once I stopped cooking, because by then I was either socializing or playing Rock Band.
I played a lot of Rock Band. Rock Band got me through those final few hours after the last guests left (around... 3:30 AM? Maybe?) and John went to sleep (ditto) and staying awake became a real struggle. On the downside, my left wrist is extra sore from curving awkwardly around the controller to get to the overdrive trigger. (Also from mildly spraining it doing dishes the next day.) On the plus side, I've gotten a lot better at sight-reading for pro keys.
Then the sun came up and I went down. I woke briefly as John was leaving for work. He gave me the news that scrimmage had been canceled due to icy roads and stupidly cold temperatures. So it turned out I had only two things to do with my Thursday: 1. Clean up after the party. 2. Continue improving my Rock Band 3 scores. I did those things. In quantity.
And then today happened and I got back to work. For the results of which, I refer you to the first two paragraphs of this blog post.
In addition to my regular Friday writing tasks, I had my very first solo Boulder Food Rescue (BFR) groceries delivery. I've just started volunteering with them. My roller derby league turned me on to them; they were on the list of community organizations which members were encouraged to go pitch in with toward the end of the year. I joined them as a last-minute volunteer sous chef for their "lunch bunch" event back at the beginning of December, and subsequently decided I'd like to work with them more. So I went to the orientation last week, shadowed one of their veteran volunteers Monday morning, and had my first solo shift this afternoon.
It went OK! I arrived at the donor grocery, loaded up the BFR bike trailer with some 150 pounds of donated produce, and rode that sucker the couple miles up to the recipient community. The delivery was a success. I did not bump the trailer into any cars, curbs, or people. The bike did not fall over in what was left of the ice and snow. No food fell off the trailer. One volunteer fell over once trying to get off the bike, having forgotten that the bike's crossbar was too high for her usual dismount maneuver, but she picked herself up again and carried on.
BFR are pretty well known around here, and their trailers are distinctive. Several people recognized the trailer while I was sorting the food, loading it up, or riding it to its destination, and they thanked me. I didn't know what to say. I thanked them back and wished them a good evening. It was awkward and sweet and it kind of made me glow.
I like the gig so far. I'm going to do it again next week.
but none of the ducks will go the f&!$ to sleep
All right, I think I've got enough ducks in a row to keep from losing my mind tomorrow. Losing my mind on the afternoon of Solstice Eve is a part of the tradition I could really, really do without. To avoid losing my mind as best I can, I have...
gotten most of the groceries although I still need to run out tomorrow for evergreen branches and holly, and batteries for the wii, and also make my CSA pick-up at the Diaz Farm
cleaned most of the house at least the bits guests will see, well, at least those areas that I hadn't already cleaned within the last two months or so
meticulously planned my cooking down to the hour so that I won't be juggling "OMG why won't the broth for the pie roux cook down already" with "please tell me I didn't put salt instead of sugar in the egg nog" (true story) and "SUNSET IN 15 MINUTES GET THE FIRE READY"
...You know how it is. Meanwhile, I'm still trying to coax a good playlist out of Pandora, one that's both seasonal and unmistakably Pagan--and I don't mean Pagan lyrics filked onto Christmas carols. No, not even the carols that were arguably Pagan in the first place. I don't want the music playing in this house during this very definitely Pagan event to bear any resemblance at all to what I've been hearing in every retail establishment since early November. If I can't shut off Cultural Hegemony Radio for the duration of the longest night in my own home, when and where the heck can I?
Unfortunately, Pandora isn't really the best tool for what I'm trying to do. It's very good at Generic Pagan-Friendly Playlist--I mean, just throw together Gaia Consort and Avalon Rising and Womansong Chorus and the like--but it's not so good for subject matter refinements. I'm getting a bit too much Beltane and not enough Yule. It'll do in a pinch, but I might get a little more hands-on if I've any time to play with it tomorrow.
Writing-wise, I am not expecting much out of myself tomorrow or on Thursday. I'm going to do enough to keep up my 4thewords streak, maybe post a couple brief check-ins on this blog here, but anything beyond that can go hang. I will be on holiday vacation. Sort of vacation. In any case, my priorities will be elsewhere.
It's just as well I finished drafting this week's Friday Fictionette today. That's right. Drafting done on a Tuesday. Woot, bam and other triumphant sound effects. Even if I get nothing done again until Friday, the release will be on time.
And then I get next week off because it is a fifth Friday. Whoo-hoo! A chance to get ahead of schedule--for real this time! I mean it! This time I've got 4thewords on my side. Like I said the other day, I often find myself at the end of writing task with some 400 words left to go on my current battle. Finding another 400 words at short notice is easy when I've got story seeds for future Friday Fictionettes lined up a month or more in advance. Also--oh, hey, I remember now--there's this new story I'm supposed to be working on and might actually get back to once the holiday madness is behind me.
People ask me "Got any plans for Christmas?" and I'm all like, "Nothing much, just recovering from the holiday I actually celebrate." And between the party and the all-nighter, recovery will be necessary. I mean, just for comparison, when I was a kid, my parents told me to go to sleep so Santa could arrive. They told me to go to sleep early. But now I'm all grown up and I celebrate Winter Solstice such that my goal is not to go to sleep. Christmas was easy, y'all. All-nighters are hard.
With that in mind, why the hell am I still awake? It's not like morning's going to come any later to make up for it. I'm out. See you on Solstice Eve.
YPP Weekend Blockades, December 16-17: The island transfer that might not be; the island opening to come
Ahoy! As scheduled some time ago, this weekend will feature the second blockade ever on the Obsidian Ocean. It'll be at noon on Triplet's Treasure--see below. (I finally updated my database this morning, so Obsidian blockades will show up in the schedule with all the other ones!) The faction of the winning flag will determine which island will be the first to open to player governance with January 6's blockade. If a flag belonging to the Defiant Armada wins, then it'll be Loggerhead Island. If a flag affiliated with Shadow Fleet wins, it'll be Magpie Island.
The winning flag will get no personal gain, mind you, other than a home field advantage in attacking the island at stake on Jan. 6 and, if they win it, defending it in future. At least one player has declared themselves less than impressed with the scenario: "It's sinking, and the results basically don't matter, so why even show up." However, as you'll see below, a respectable handful of flags have indeed showed up. Jobbing pay is currently between 1000 and 1500 PoE/Seg.
On the Cerulean Ocean, Babylon are attacking Fintan Island and Winter Solstice at 8:35 PM Pirate Time. At the same time, Tyranny, the defenders, had already agreed to transfer Winter Solstice to the flog Defiantly Deviant as part of their Christmas Island Giveaway Event. I suppose the transfer will only happen if Tyranny successfully defend.
Also on Cerulean, Midnight Yacht Club intend to take Hephaestus' Forge back from Admiral Finius. All Brigand King blockades are sinking; therefore MYC offers free healing of any unwanted injuries to their jobbers. They will also be holding a raffle.
Please note: All islands will be CLOSED to blockades over the holiday weekends of December 23 and 30. "You will still be able to scuttle brigand kings," Demeter says. If no one does and there is nothing to report, I may not bother posting. (Which will be entirely different from when I fail to post because life and schedules and argh, of course.)
Standard reminders: Schedule is given in Pirate Time, or U.S. Pacific. Player flags link to Yoweb information pages; Brigand King Flags link to Yppedia Brigand King pages. BK amassed power given in parenthetical numbers, like so: (14). For more info about jobbing contacts, jobber pay, and Event Blockade battle board configuration, check the Blockade tab of your ocean's Notice Board. To get hired, apply under the Voyages tab.
Doubloon Ocean Blockades
*** Saturday, December 16 ***
12:00 p.m. - Pukru Island, Emerald Ocean
Brigand King attack!
Defender: Heavenly Waters
Attacker: The Enlightened (5)
Undeclared: Spoon Republic

12:00 p.m. - Drogeo Island, Meridian Ocean
Brigand King attack!
Defender: Imperial Coalition
Attacker: The All-Consuming Flame (2)

12:00 p.m. - Triplet's Treasure, Obsidian Ocean
Event: 3 rounds, sinking!
Hosted by: Vilya
Participating: Amateur Hour
Participating: Art of War
Participating: Fanatical SOULS
Participating: Blame Brenda

5:58 p.m. - Kiwara Island, Emerald Ocean
Defender: Black Flag
Attacker: Revenge Is Sweet

6:02 p.m. - Duat Island, Meridian Ocean
Attacker: Poseidon's Guards

9:02 p.m. - Anegada Island, Emerald Ocean
Defender: Heavenly Waters
Attacker: Spoon Republic

9:35 p.m. - Ventress Island, Emerald Ocean
Defender: Illuminatti
Attacker: Spoon Republic

Subscription Ocean Blockades
*** Saturday, December 16 ***
12:00 p.m. - Napi Peak, Cerulean Ocean
Brigand King attack!
Defender: Babylon
Attacker: Chthonic Horde (1)

12:01 p.m. - Islay of Luthien, Cerulean Ocean
Brigand King holds the island!
Defender: Fleet of his Imperial Scaled Highness (1)
Attacker: Carpe Noctem
Undeclared: Tyranny

12:05 p.m. - Namath Island, Cerulean Ocean
Defender: Tyranny
Attacker: Red Ribbon Army

8:28 p.m. - Winter Solstice, Cerulean Ocean
Defender: Tyranny
Attacker: Babylon

8:34 p.m. - Fintan Island, Cerulean Ocean
Defender: Tyranny
Attacker: Babylon
Attacker: Blackstar

*** Sunday, December 17 ***
10:00 a.m. - Hephaestus' Forge, Cerulean Ocean
Brigand King holds the island!
Defender: Fleet of his Imperial Scaled Highness (1)
Attacker: Midnight Yacht Club